This article is available in English and German on the same page.

Kaum zu glauben aber wahr: Die Zeit steht nicht still – nun bin ich tatsächlich 30 geworden. Leider konnte ich nicht mit Euch feiern, habe aber an Euch gedacht! 🙂
Ein kurzes Resümee der letzten Monate.
Nachdem ich über den Pazifik und durch den Panamakanal geschippert bin, verließ ich das Containerschiff nach 31 Tagen Ende Januar in Kolumbien. Nun blieben noch ca. 3,5 Wochen Zeit den kompletten südamerikanischen Kontinent bis zur Südspitze zu durchqueren (ohne Flugzeug) – wenn ich wirklich die Antarktis sehen wollte. Wer schon einmal in Südamerika war, wird mir den Vogel zeigen – so war auch die Reaktion der Reisenden von unterwegs. Viel zu groß wäre der Kontinent, viel zu lang die Distanzen und zu viele Stopps auf meinem Plan. Denn natürlich wollte ich mir unterwegs auch Land und Leute anschauen. Machen wir es kurz: Es war eine unvergessliche Herausforderung und … es ging! 🙂 Jeden Tag ein Ortswechsel, die Hälfte der Nächte in Bussen geschlafen und tagsüber die Entdeckung der immer neuen Umgebung von Kolumbien, Ecuador, Peru, Bolivien, Chile und Argentinien.
Von diesem Abenteuer ging es ohne Pause direkt weiter in das nächste: Zum weißen Kontinent – die Antarktis! Wale, Pinguine, Seeleoparden uvm. zwischen Packeis und Eisbergen eingebettet in eine unvergleichliche Landschaft. Es war in vielfältiger Hinsicht atemberaubend.
Nach dieser einmaligen Erfahrung ging es wieder zurück nach Südamerika und zur Erkundung durch Argentinien, Uruguay, Paraguay und Brasilien bevor ich mich dann zur Durchquerung von Zentralamerika aufmachte. Panama, Costa Rica, Nicaragua, Honduras, El Salvador, Guatemala, Belize – viele kleine Länder mit vielen interessanten Sachen – auch hier in mehrfacher Hinsicht. Letztendlich war Mexiko die letzte Station meines durchaus sehr intensiven Lateinamerika-Ausflugs.
Wie es war? Weiter unten findest Du eine kleine Bilderserie der letzten Monate. 🙂
English
Hard to believe but true: Time doesn't stop – now I turned 30. Although I couldn't celebrate together with you, I've thought of you! 🙂
A brief summary of the recent months.
After I crossed the Pacific and went through the Panama Canal, I left the container ship in Colombia in late January (after 31 days on the ship). I had only 3.5 weeks to cross the entire South American continent (without airplane) to reach the southern tip – if I really wanted to see the Antarctica. Anyone who has been in South America would tell me I'm crazy – that was the reaction of the travelers I met on the road. The continent would be too big, too long the distances and too many stops on my plan. Of course on the way I wanted to see and learn about country and people. To make it short: It was an unforgettable challenge … and it worked! 🙂 Each day I changed the places, half of all nights I slept in buses and during the day the discovery of Colombia, Ecuador, Peru, Bolivia, Chile and Argentina.
From this adventure I went non-stop to the next: The White Continent – Antarctica! Whales, penguins, leopard seals and much more between pack ice and icebergs embedded in an exceptional landscape. It was breathtaking in many ways.
After this unique experience I went back to South America to explore Argentina, Uruguay, Paraguay and Brazil, before I started to cross Central America. Panama, Costa Rica, Nicaragua, Honduras, El Salvador, Guatemala, Belize – many small countries with a lot to offer – again, in more ways than one. Finally, Mexico was the last stop of my truly intense trip through Latin America.
How was it? Here is a small series of pictures of the recent months. 🙂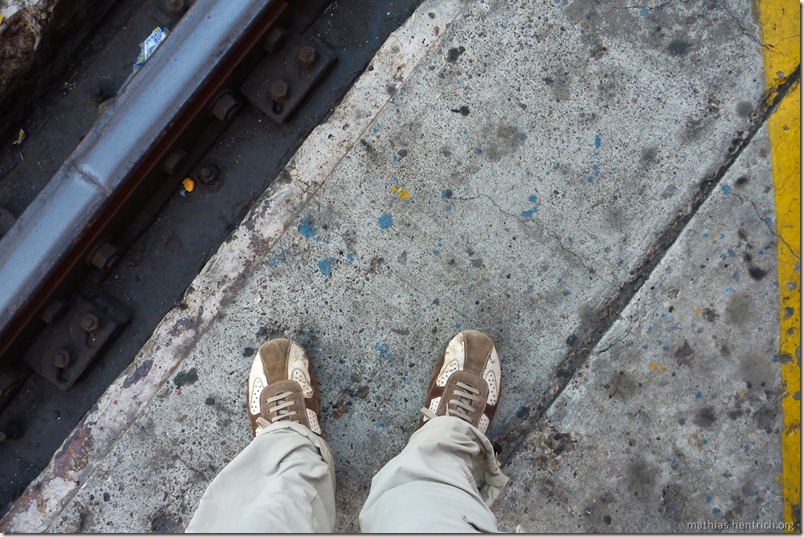 Erstmalige Betretung Lateinamerikas.
First foot on Latin America.
Port Cristobál, Colón, Panama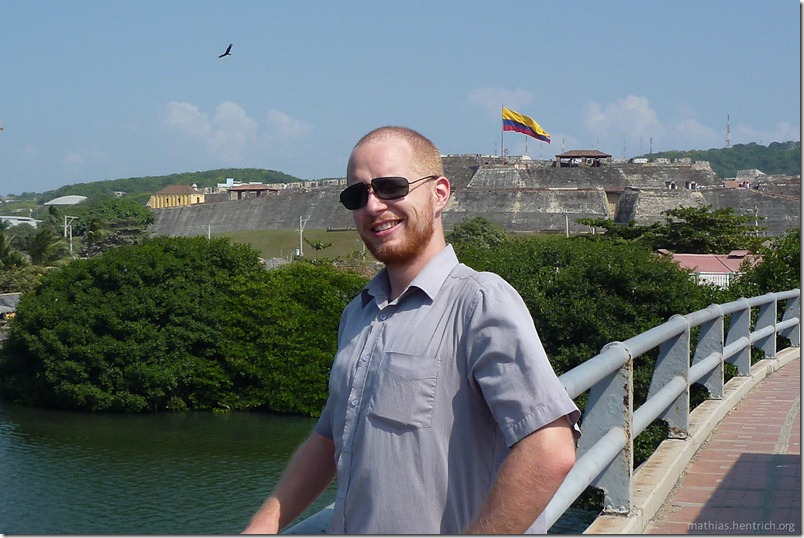 Begrüßung bei bestem Wetter,…
Welcome at best weather,…
San Felipe Castle, Cartagena, Colombia

…bestem Kaffee und traditioneller Ajiaco Suppe.
…delicious coffee and traditional Ajiaco soup.
Bogota, Colombia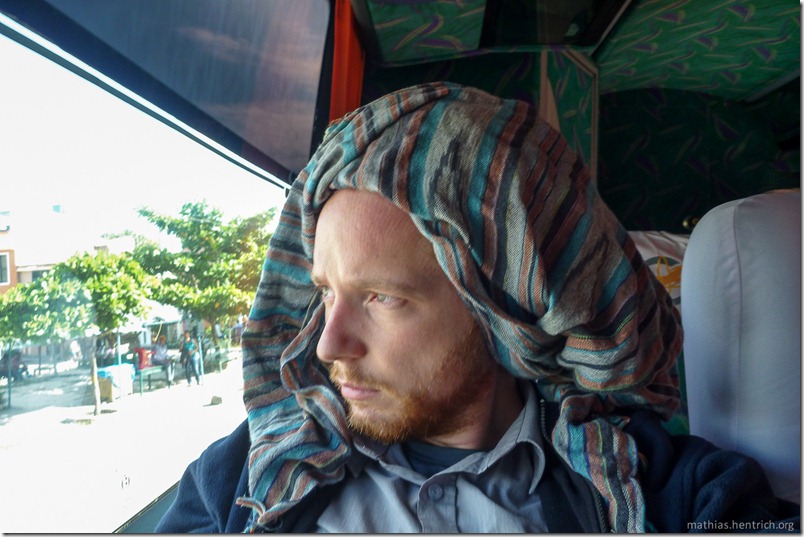 Nur einer von vielen Momenten im Busssssssssssss…
One of many moments in the bussssssssss…
On the way to Ecuador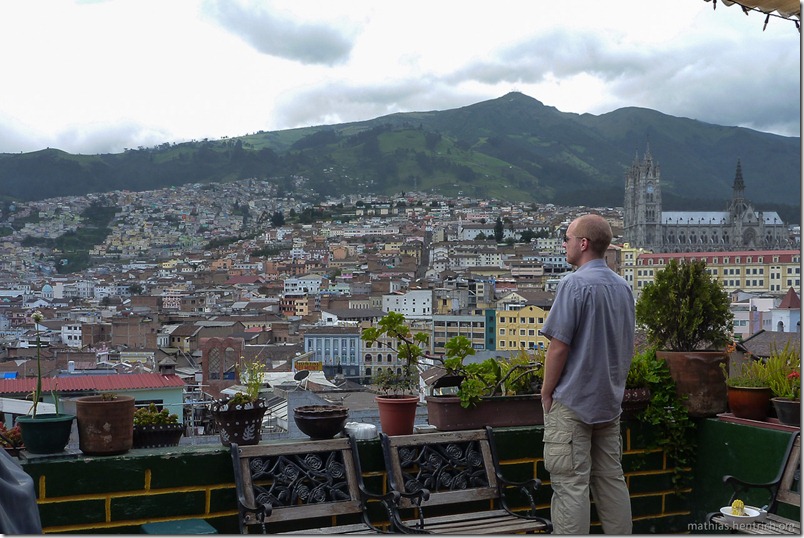 Ausblick von meinem Hostel.
View from my hostel.
Quito, Ecuador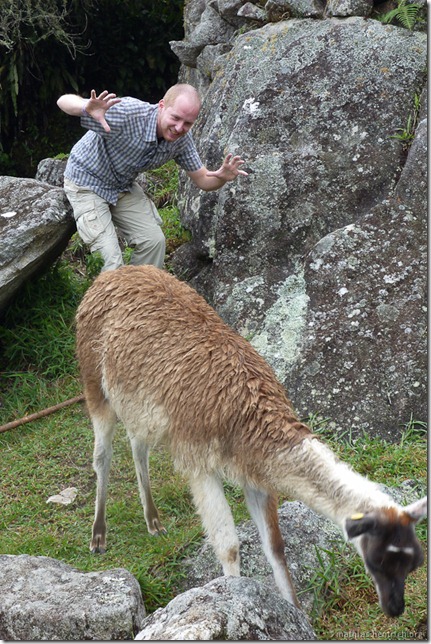 Nahrungsbeschaffung: Lama-Jagd.
Food procurement: Lama-hunting.
Machu Picchu, Peru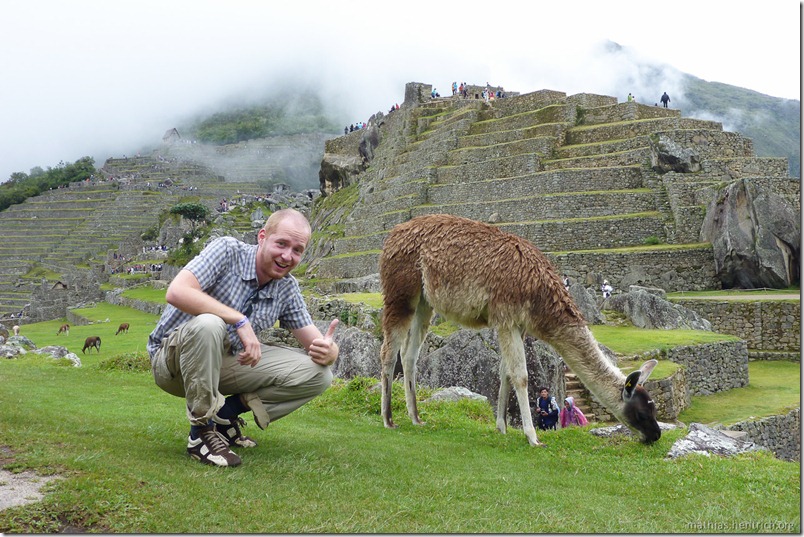 Planänderung: Lama ist zu klein und muss noch mehr futtern.
Change of plan: Lama is too small and needs to gain more weight.
Machu Picchu, Peru

Inka-Stätte im Unwetter.
Inka site in heavy rain.
Machu Picchu, Peru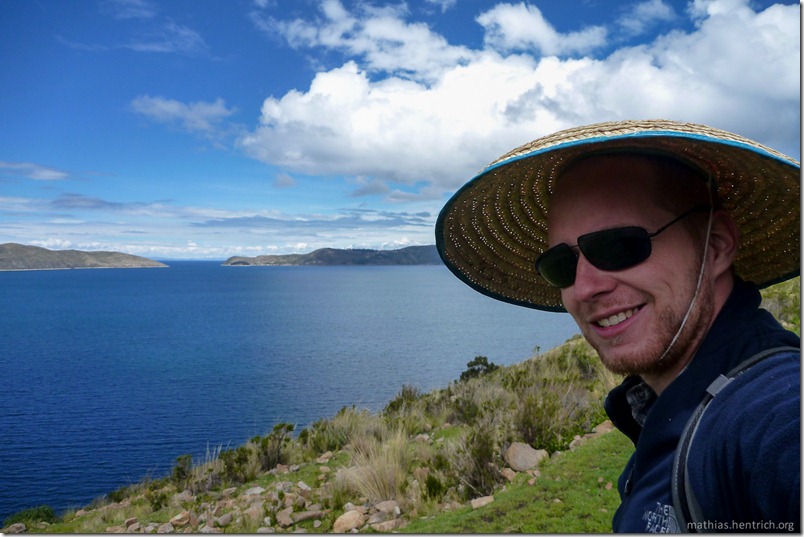 Auf Regen folgt Sonnenschein.
After rain comes the sun.
At Moon Island with view to Sun Island, Lake Titicaca near Copacabana, Bolivia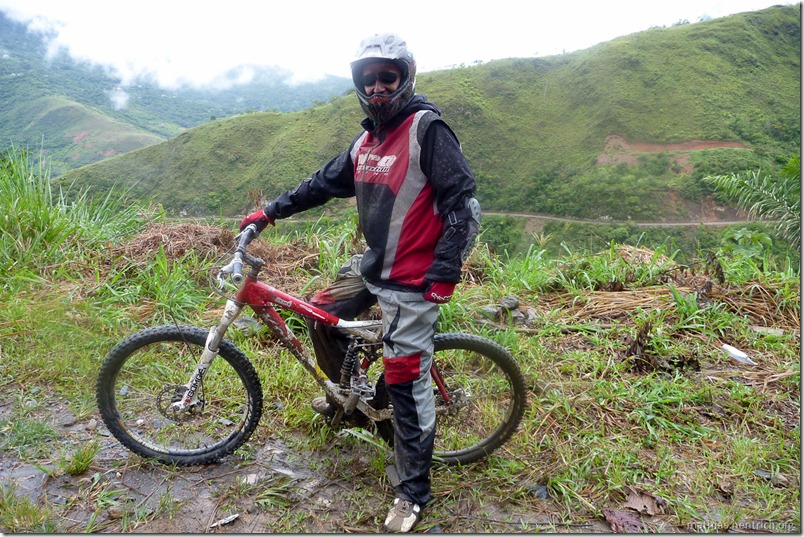 Nervenkitzel auf der gefährlichsten Straße der Welt.
Thrill on the world's most dangerous road.
Yungas Road (Death Road), near La Paz, Bolivia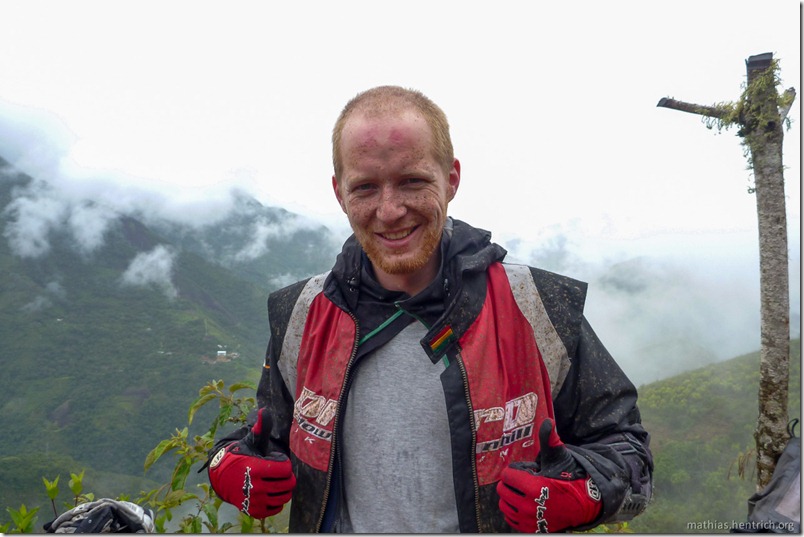 >3000 Höhenmeter bergab durch Schnee, Regen, Wasserfälle und Matsch ohne Ende!
>3000 altimeter downhill through snow, rain, waterfalls and endless mud!
Yungas Road (Death Road), near La Paz, Bolivia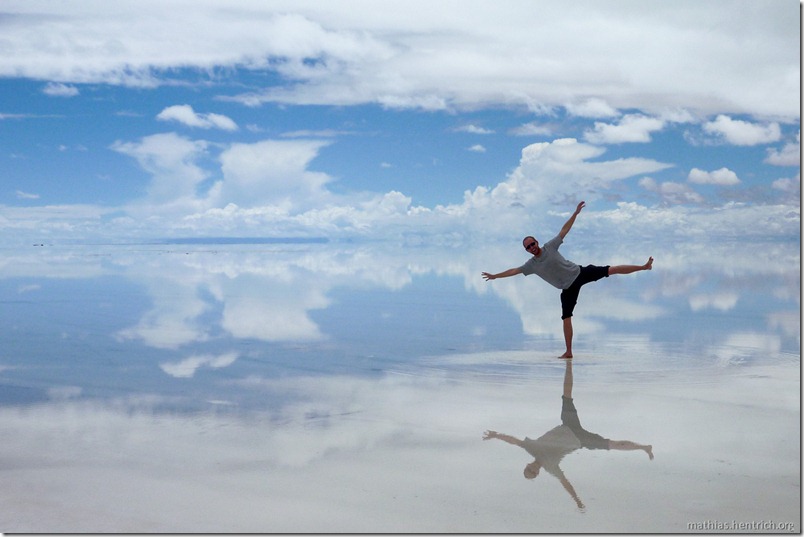 Keine Fotomontage – totale Realität!
No photomontage – total reality!
Salar de Uyuni, Bolivia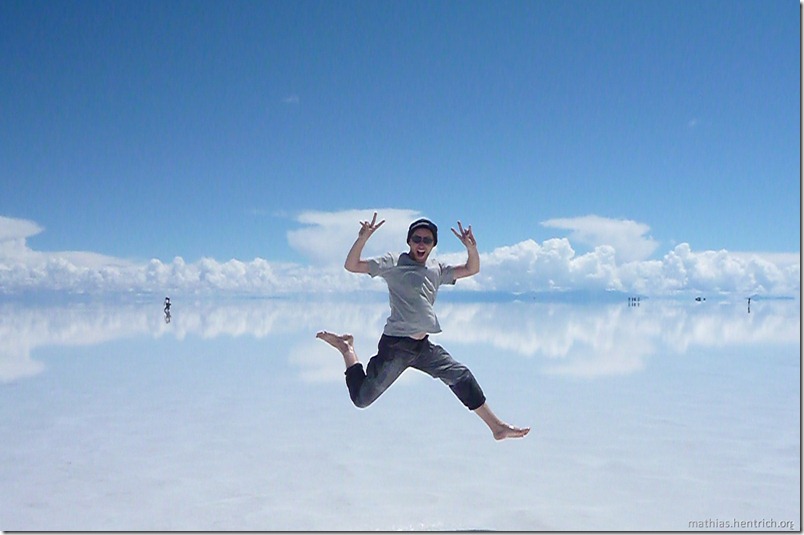 Im Himmel schweben.
Floating in the sky.
Salar de Uyuni, Bolivia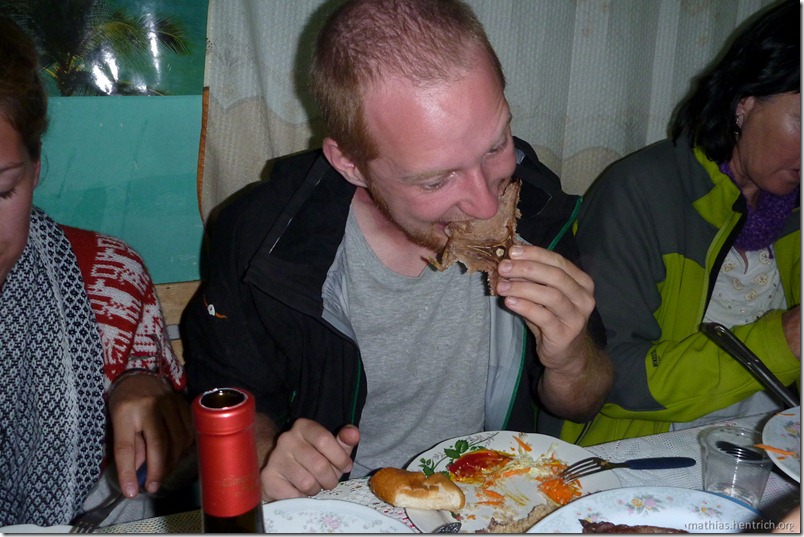 Das Lama war fett genug – jetzt wird es verspeist… 😉
The lama has gained enough weight – now it's eating time… 😉
At around 4000 m altitude somewhere on the Altiplano of Bolivia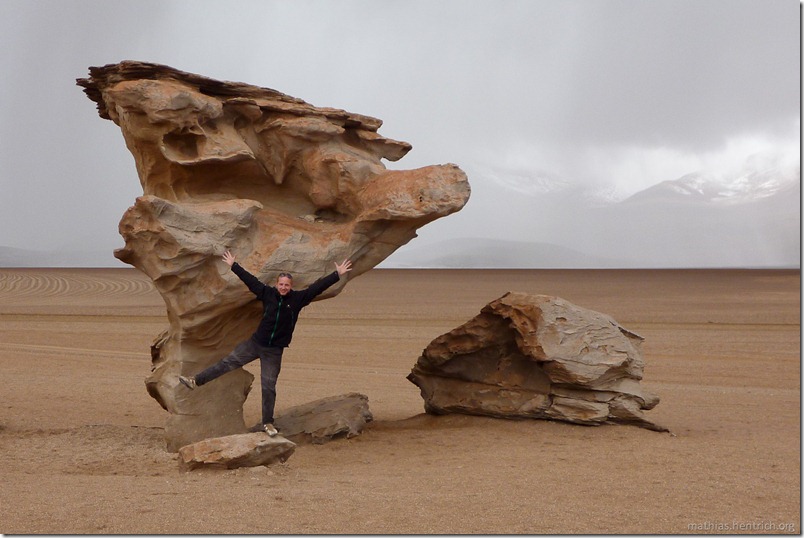 Am Steinbaum auf 4600 Höhenmeter.
At the Stone Tree at 4600 m altitude.
Altiplano, Bolivia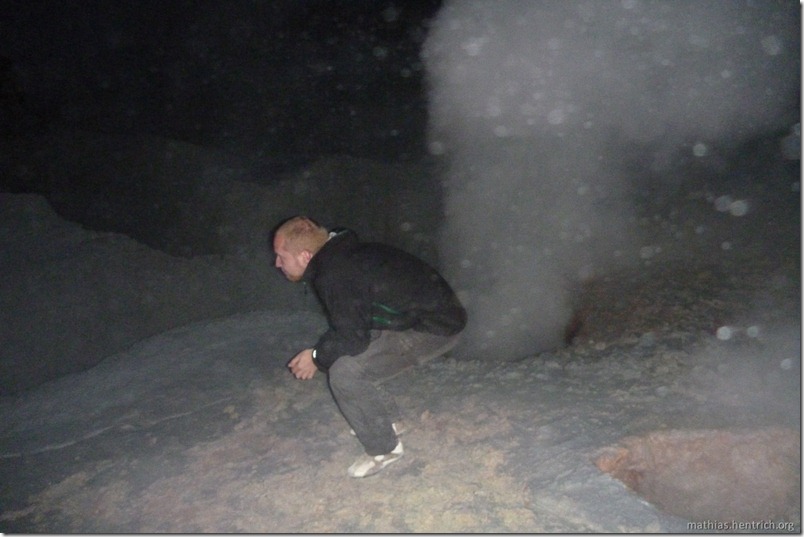 Dampf ablassen auf knapp 5000 m…
Off steam at almost 5000 m…
Solar de Manana Geysirs, Bolivia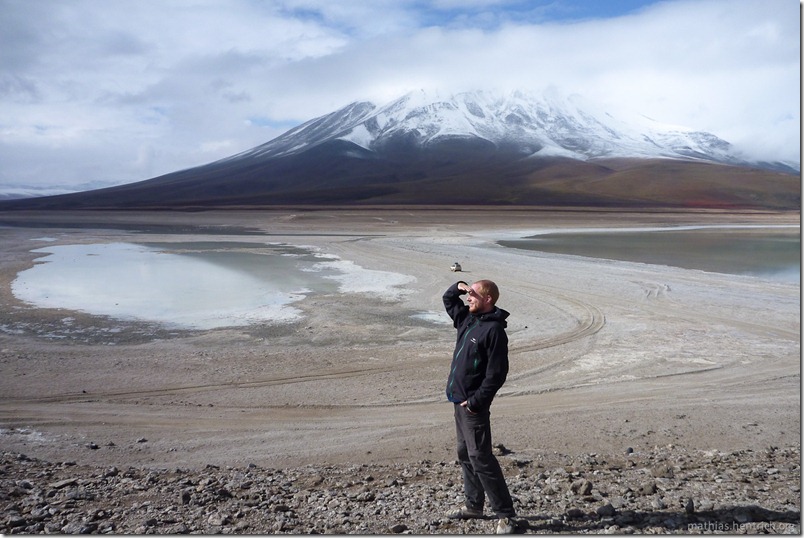 Nur einer von vielen Riesen-Vulkanen in dieser endlosen Weite (siehe Auto zum Vgl.).
One of many huge volcanoes in this vastness (see car to compare).
Near the border to Chile, Altiplano, Bolivia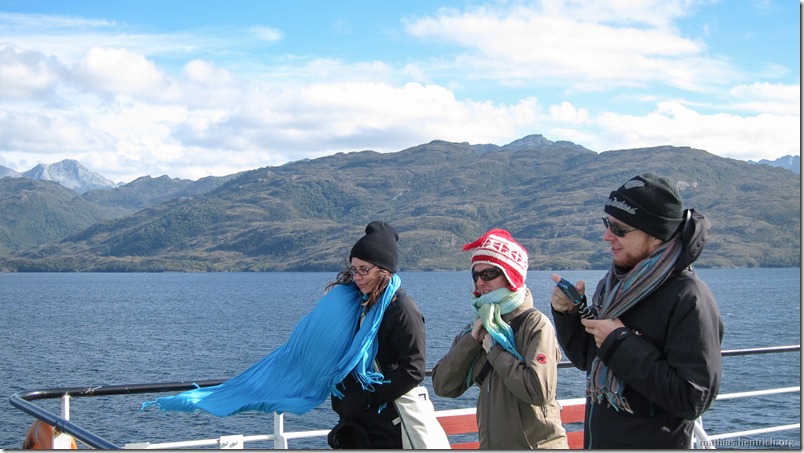 Cool & the Gang auf dem Schiff durch die Fjordlandschaft Süd-Chiles.
Cool & the Gang on the ship through the fjords of southern Chile.
On the Navimag ferry, Sur Grande, Chile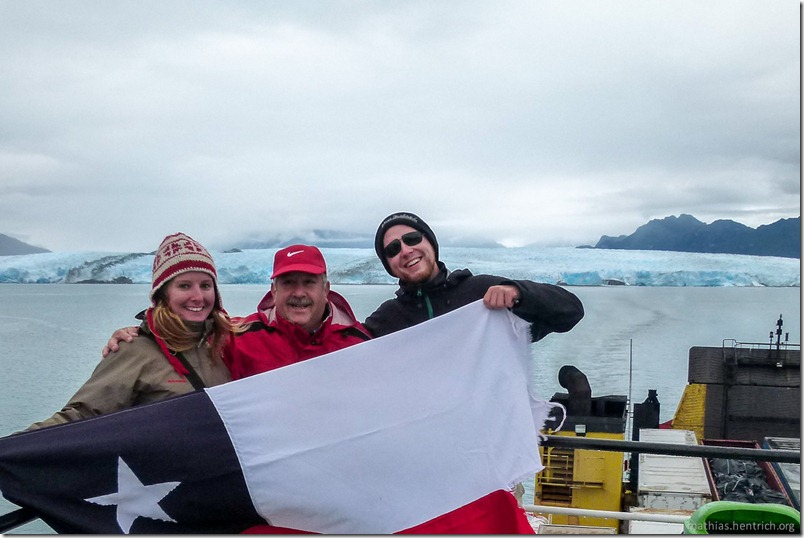 Am größten Gletscher der Südhalbkugel* mit Schiffsflagge und echtem Chilenen. 😉
At the biggest glacier of the southern hemisphere* with ship's flag and a real Chilean. 😉
Brüggen / Pio XI Glacier, Chile (*exclude Antarctica)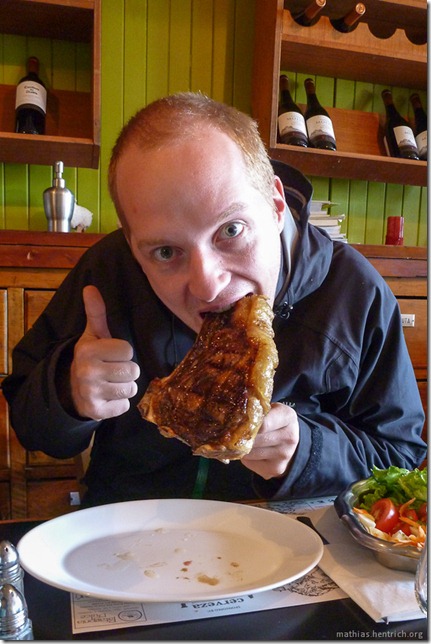 Nach vier Tagen Schiffskost: Fleischeslust.
After four days on the ship: Carnal lusts.
Puerto Natales, Chile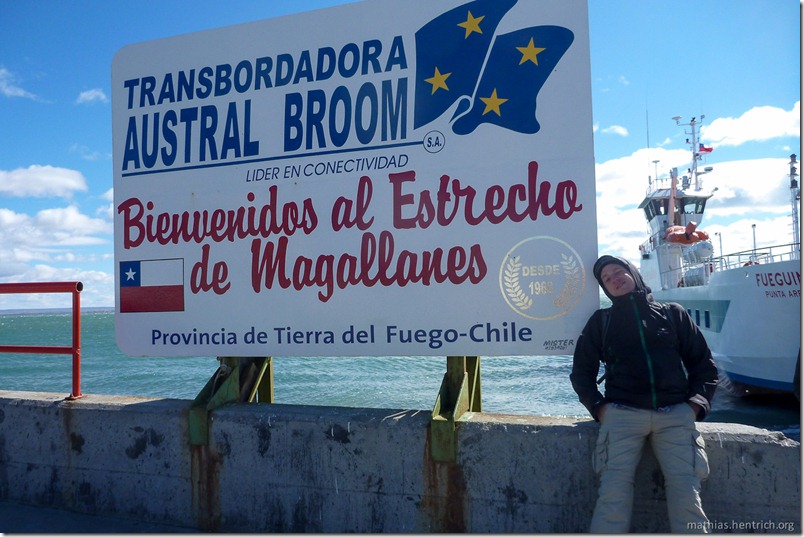 Nach Überquerung der Magellanstraße nun auf Feuerland.
Arrival on Fireland after crossing the Strait of Magellan.
Tierra del Fuego, Chile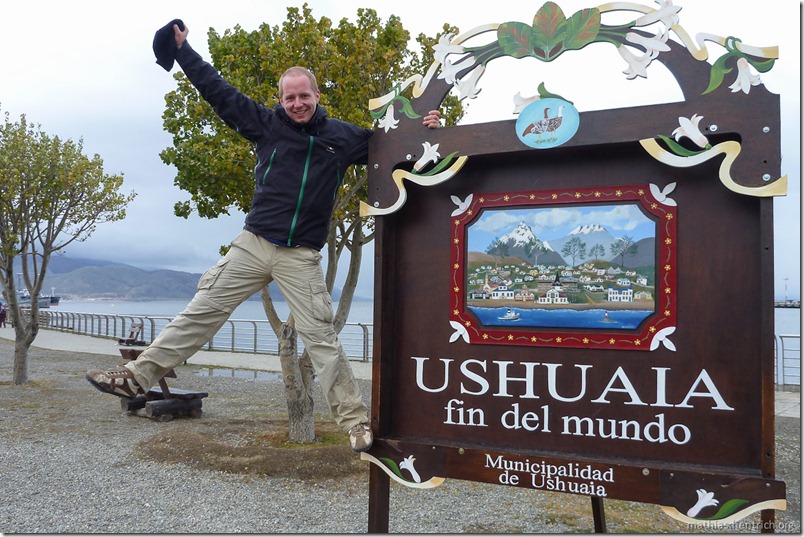 Gymnastik in der südlichsten Stadt der Welt.
Gynmastics in the world's southernmost city.
Ushuaia, Argentina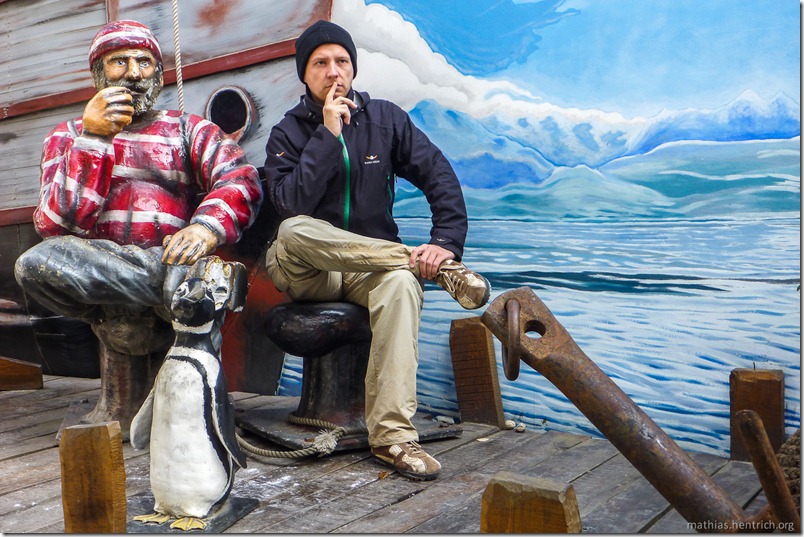 Letzte Vorbereitungen bevor es auf zum wirklichen Ende der Welt geht.
Final preparations before departure to the real end of the world.
Ushuaia, Argentina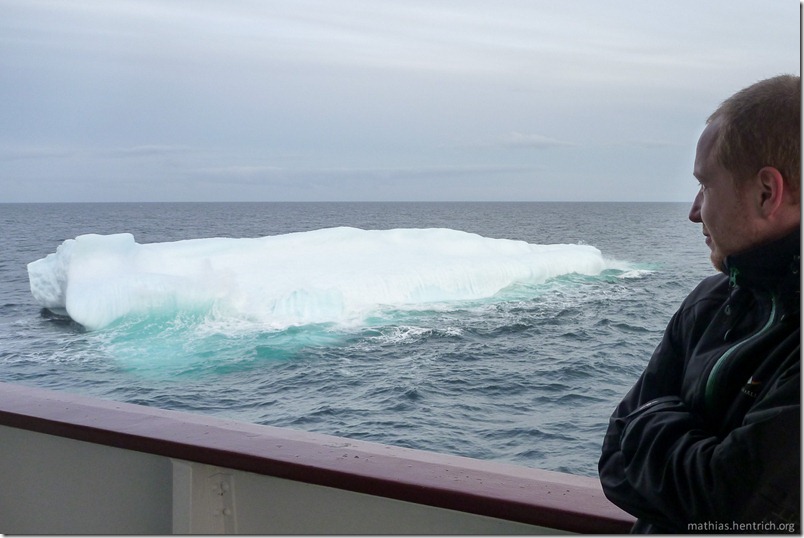 Überquerung des wildesten Gewässers weltweit – und es wird kälter…
Crossing the wildest waters worldwide – and it gets colder…
Drake Passage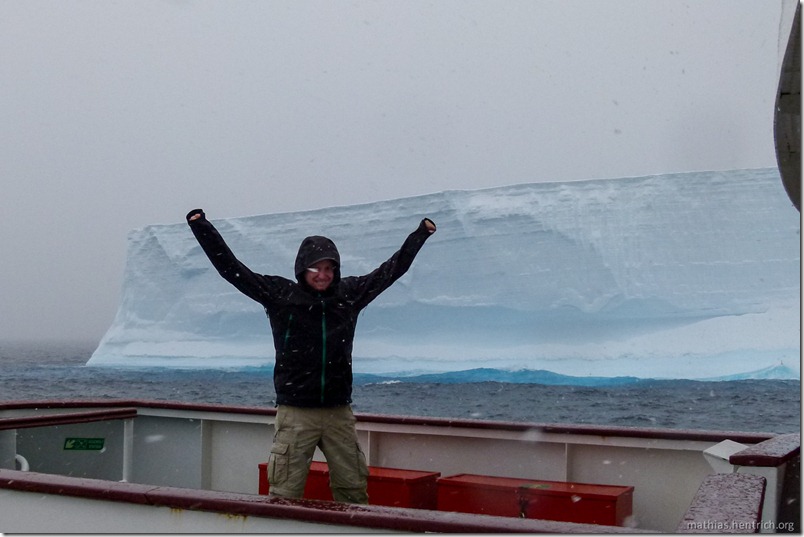 …und kälter und die Eisberge werden größer und größer.
…and colder and the icebergs getting larger and larger.
Drake Passage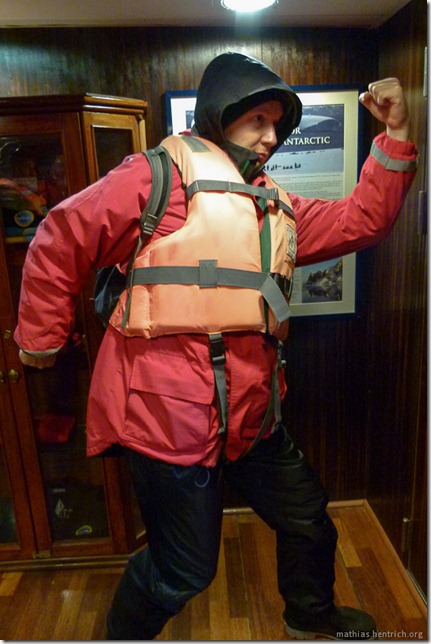 Präparation für den ersten Landgang – 8 Lagen Klamotten.
Preparation for the first landfall – 8 layers of clothes.
Antarctic Dream Expedition Ship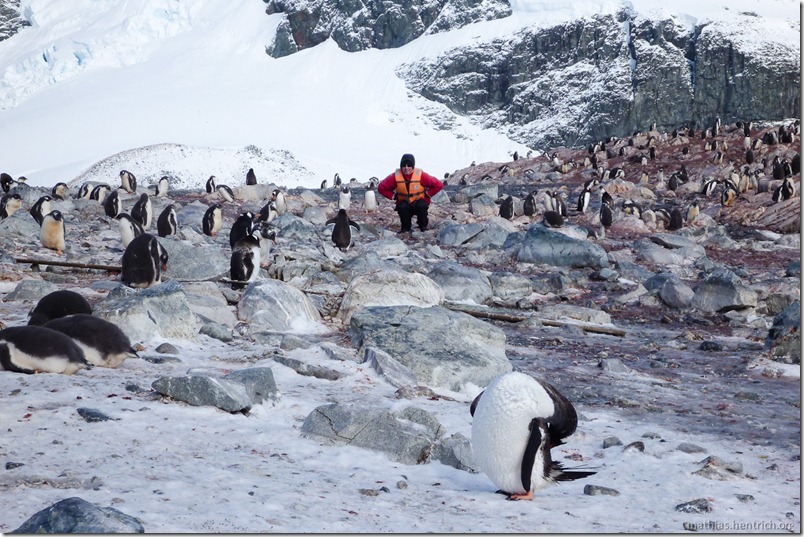 Unauffällig zwischen Pinguinen…
Disguised among penguins…
Cuverville Island, Antarctica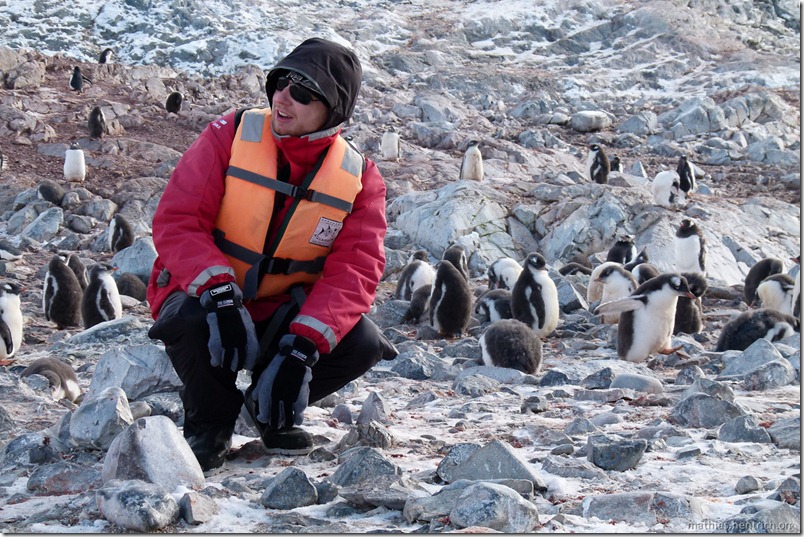 …den definitiv coolsten Vögeln…
…the definitely coolest birds…
Cuverville Island, Antarctica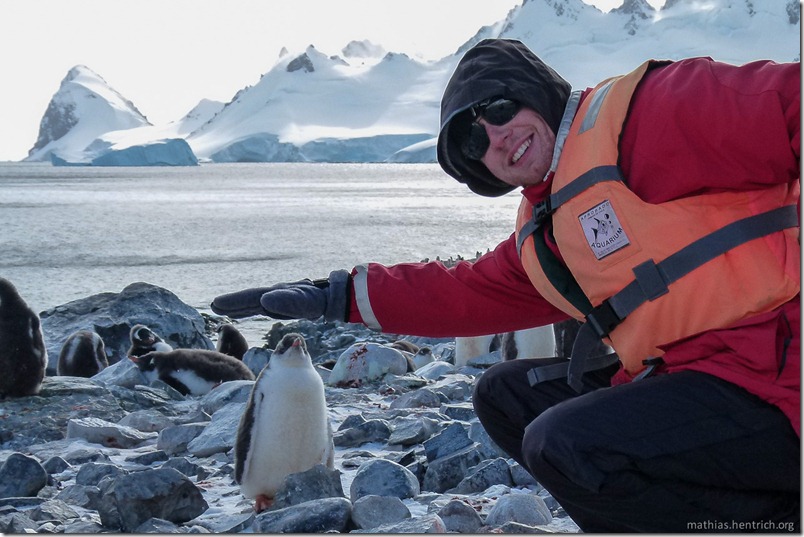 …mit den witzigsten Verhaltensweisen. Einfach supersüß!
…with the funniest behaviors. Just supercute!
Cuverville Island, Antarctica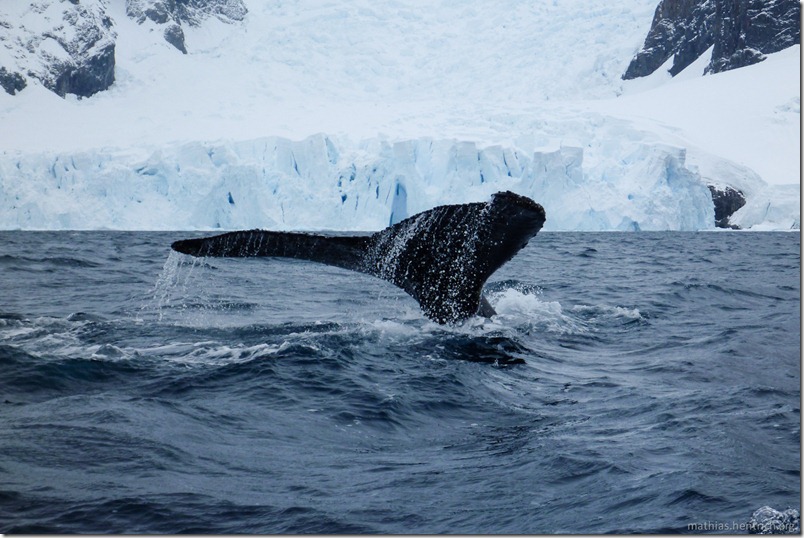 Gruß vom Buckelwal direkt neben unserem Schlauchboot.
Greeting from a humpback whale next to our zodiac.
Paradise Bay, Antarctica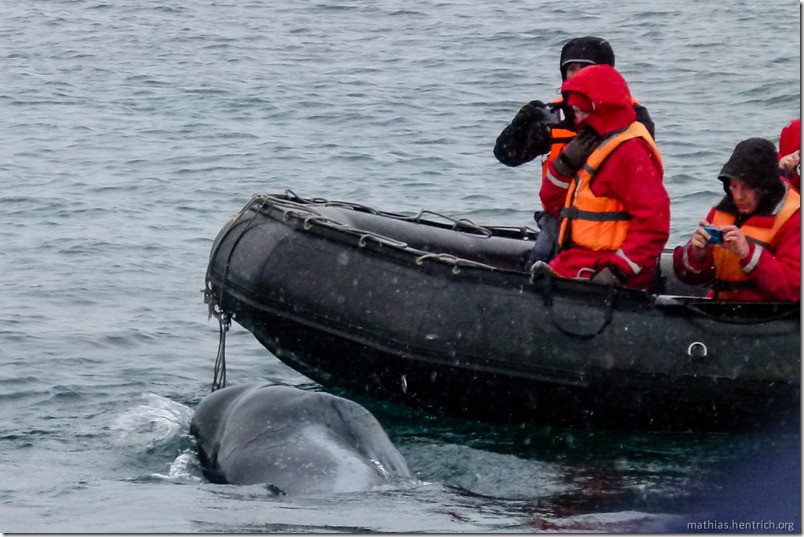 Ein Monster-Seeleopard in Aktion.
A monster leopard seal in action.
Paradise Bay, Antarctica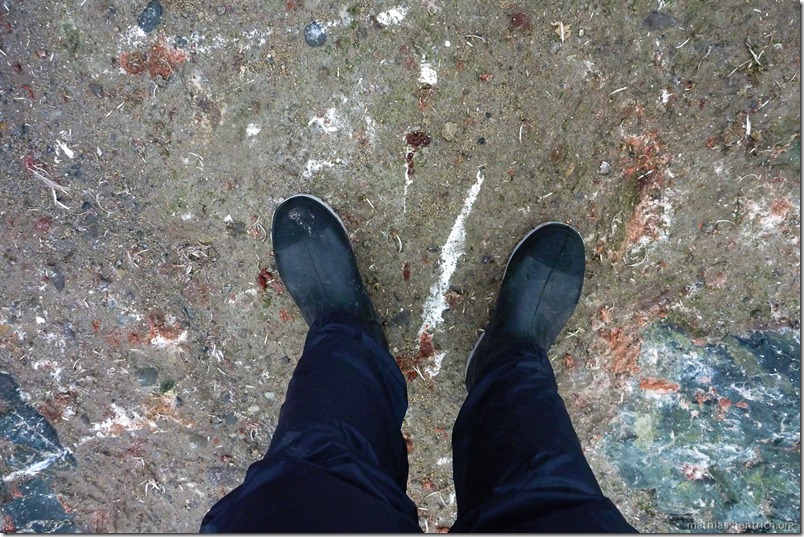 Erstmalige Betretung von kontinentalem Antarktis-Festland – inmitten von Pinguin-Kot.
First footsteps on continental Antarctica-mainland – in the midst of penguin shit.
González Videla Base, Antarctica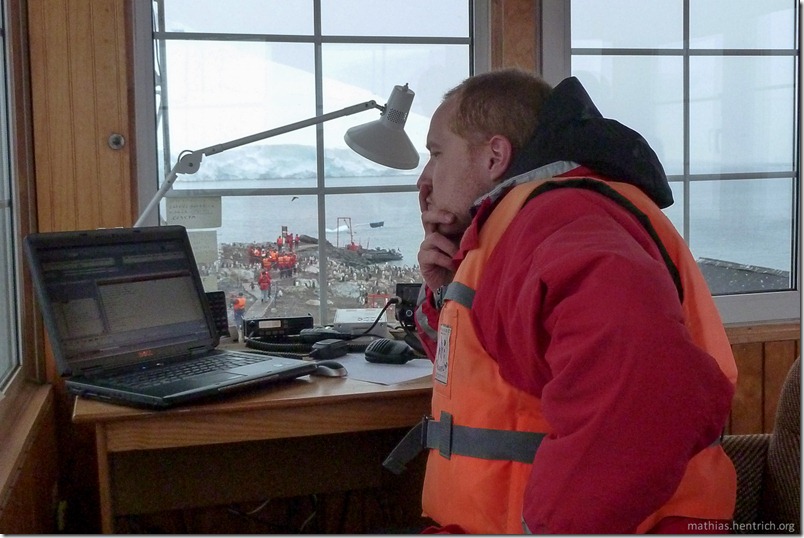 Forscher in Forschungsstation bei der Arbeit.
Researcher in research station at work.
González Videla Base, Antarctica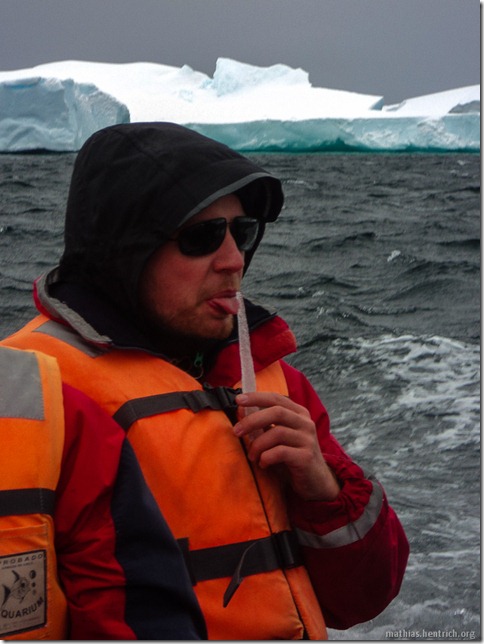 Grandioses Forschungsergebnis: Antarktischer Eiszapfen ist eiskalt.
Magnificent research result: Antarctic icicle is icy cold.
Near Pleneau Island, Antarctica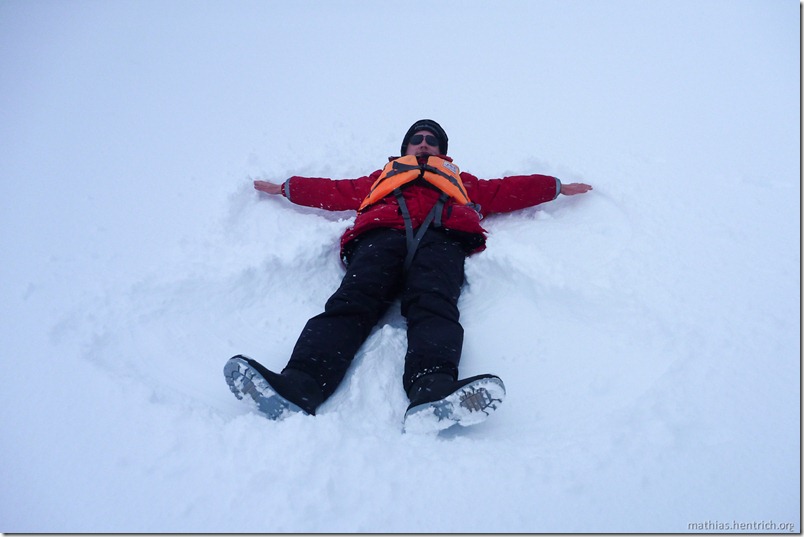 Weitere Erkenntnis: Auch Schnee-Engel (und Schneeballschlachten) sind hier möglich.
Another important result: Even snow angels (and snowball fights) are possible.
Dorian Bay, Antarctica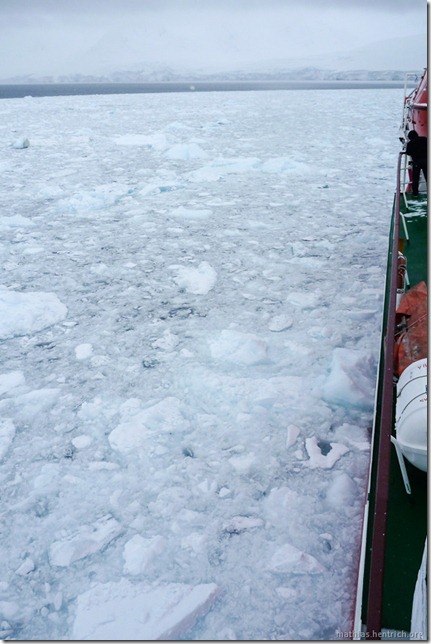 Knirschend und krachend durch Packeis…
Crunching and crashing through pack ice…
On the way to the Lemaire Channel, Antarctica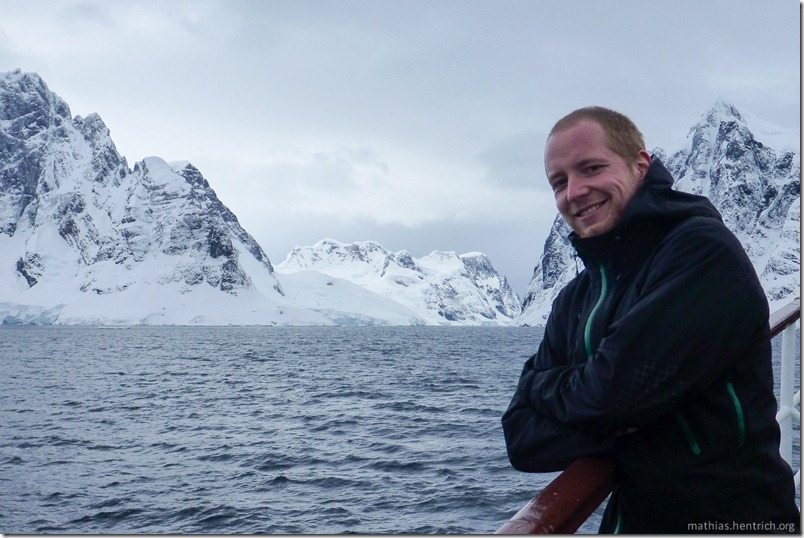 …von einer atemberaubenden Landschaft…
…from one breathtaking landscape…
Lemaire Channel, Antarctica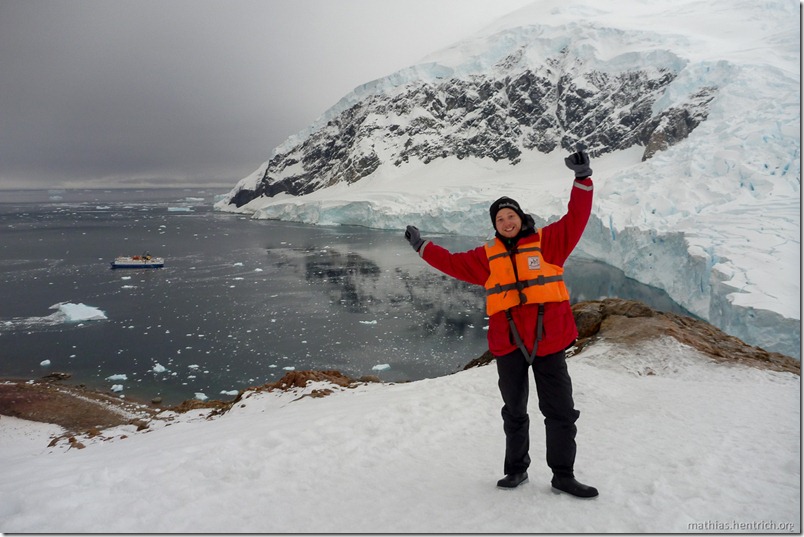 …in die nächste unvergessliche Szenerie.
…to the next unforgettable scenery.
Neko harbour, Antarctica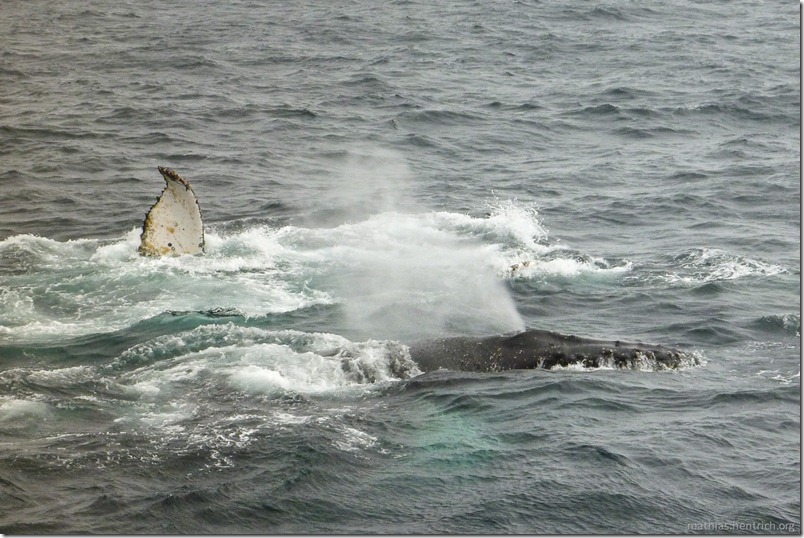 Eine neugierige Gruppe…
A curious group…
Dallmann Bay, Antarctica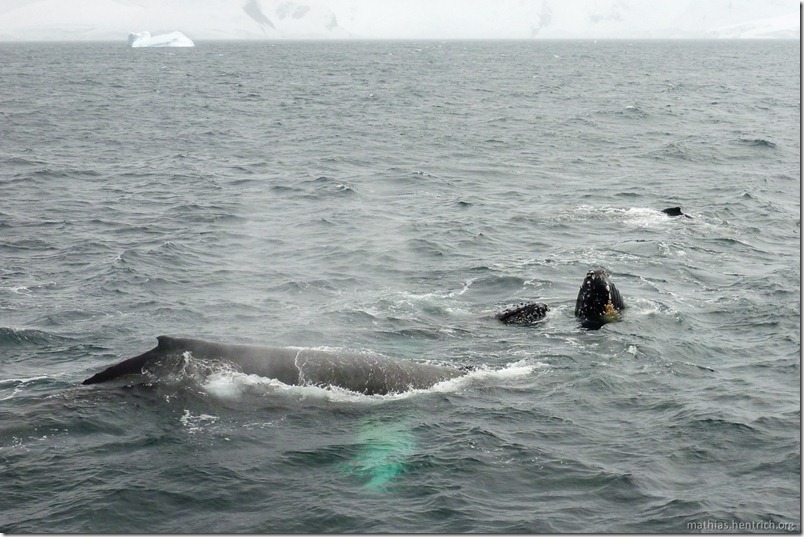 …von Buckelwalen…
…of humpback whales…
Dallmann Bay, Antarctica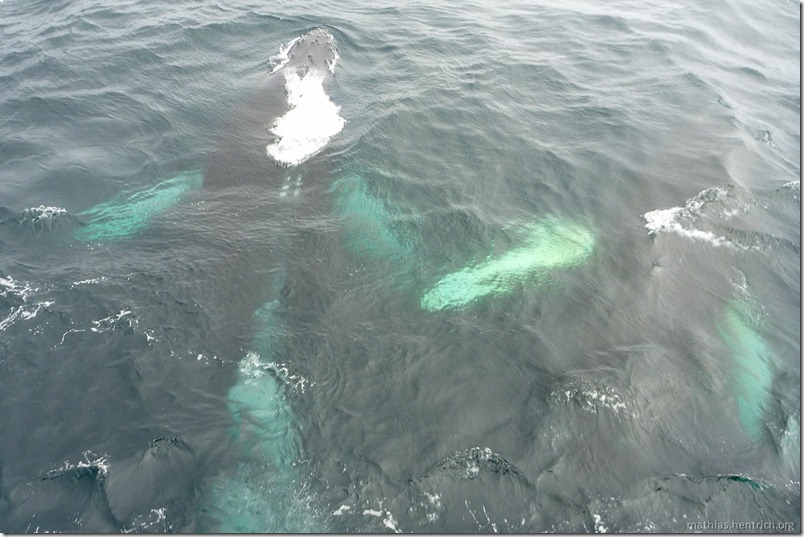 …bei ihrem knapp zweistündigen…
…during their nearly two-hour…
Dallmann Bay, Antarctica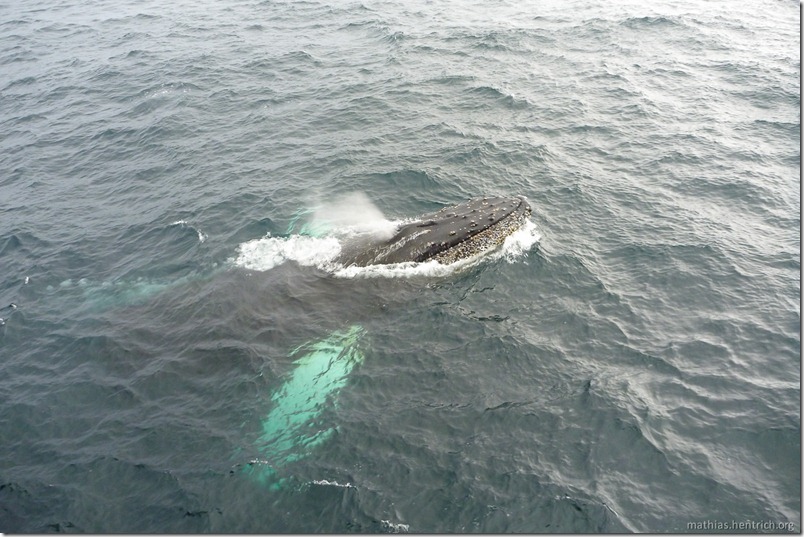 …und teilweise lautstarken…
…and impressive…
Dallmann Bay, Antarctica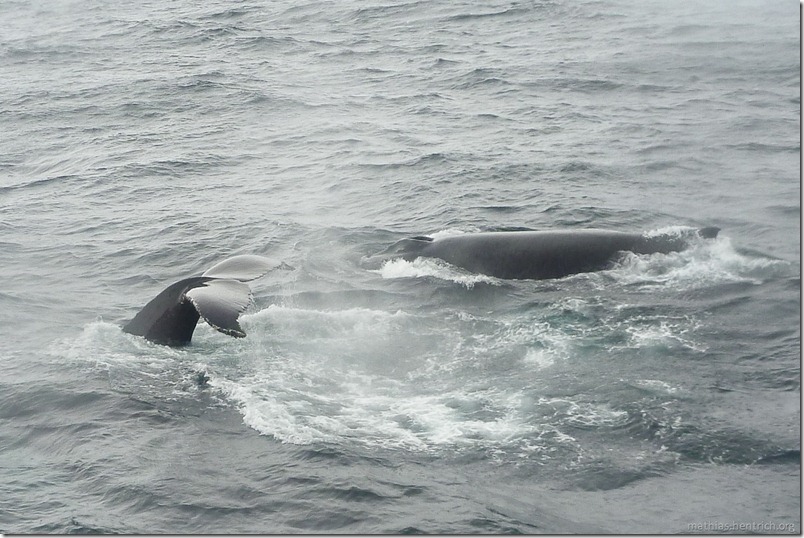 …Erkundungsspiel mit unserem Expeditionsschiff. Atemberaubend ist kein Ausdruck!
…exploration game with our expedition ship. More than stunning!
Dallmann Bay, Antarctica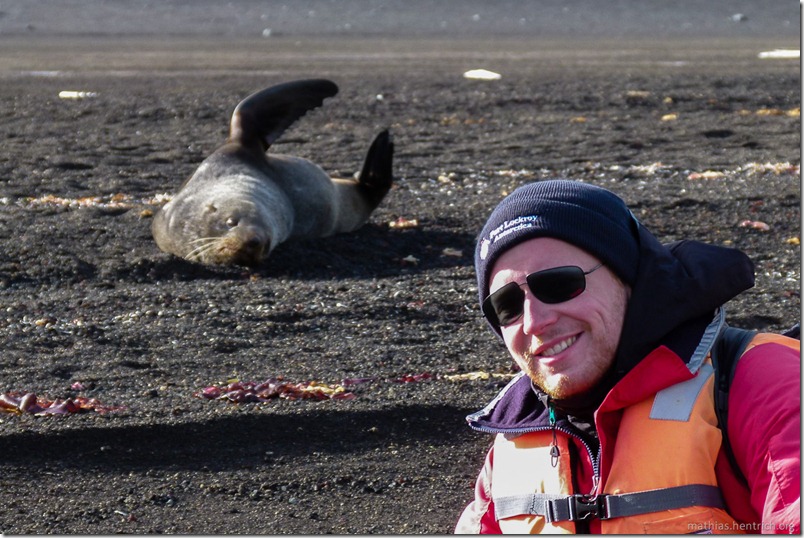 Neugierig-faule Robbe (das linke Säugetier). 😉
Curious-lazy seal (the mammalian left). 😉
Deception Island, Antarctica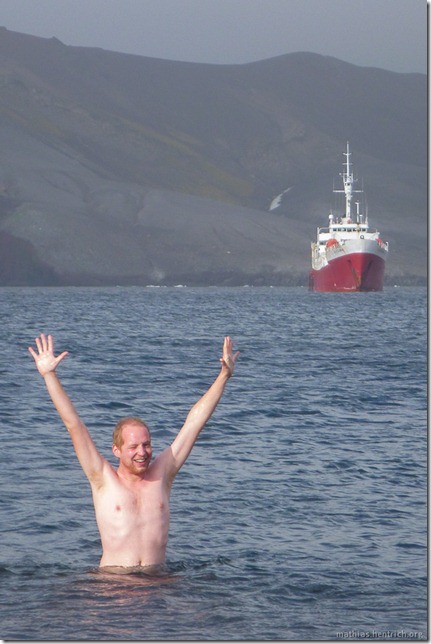 Expeditionsschiff, 0°C Wassertemperatur und ich *…* Es war sch*** KALT!
Expedition ship, 0°C water temperature and me *…* Indeed, it was f*** COLD!
Deception Island, Antarctica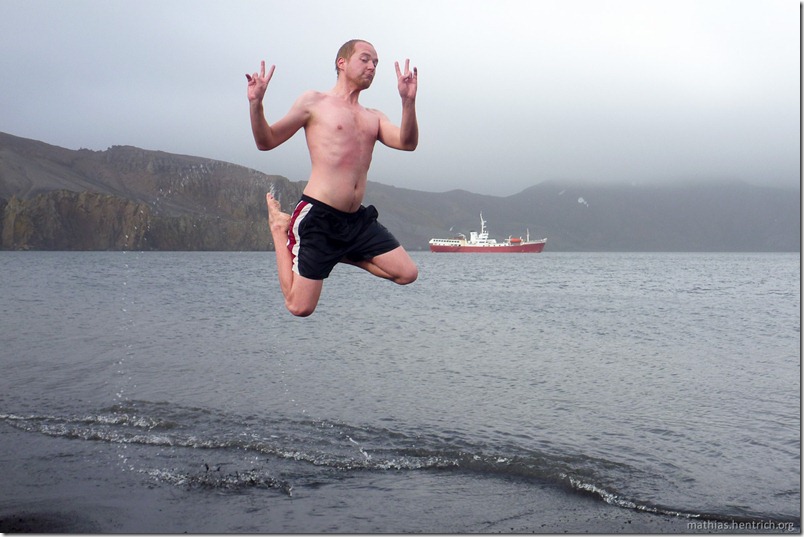 Haut und Gliedmaßen ohne Gefühl ist kein Grund zur Traurigkeit. 😀
Skin and limbs without feeling is no reason to be sad. 😀
Deception Island, Antarctica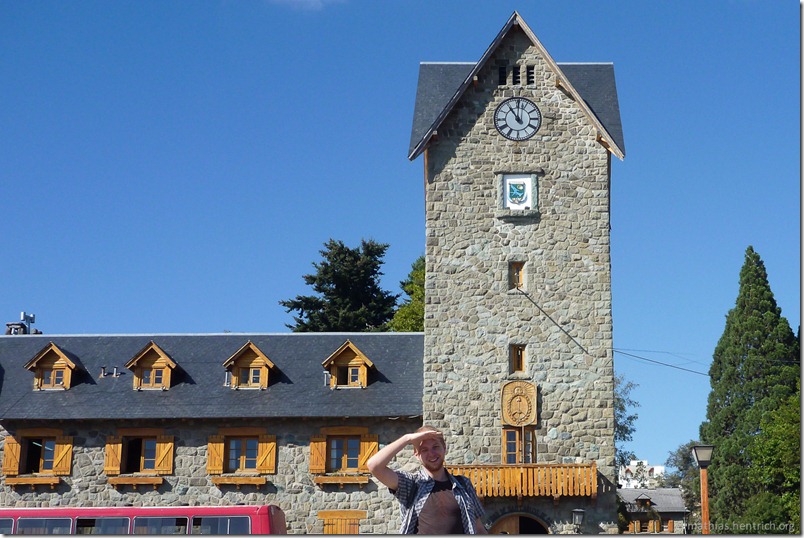 Im Schokoladenparadies in der südamerikanischen Schweiz.
In the chocolate paradise in the south american Switzerland.
Bariloche, Argentina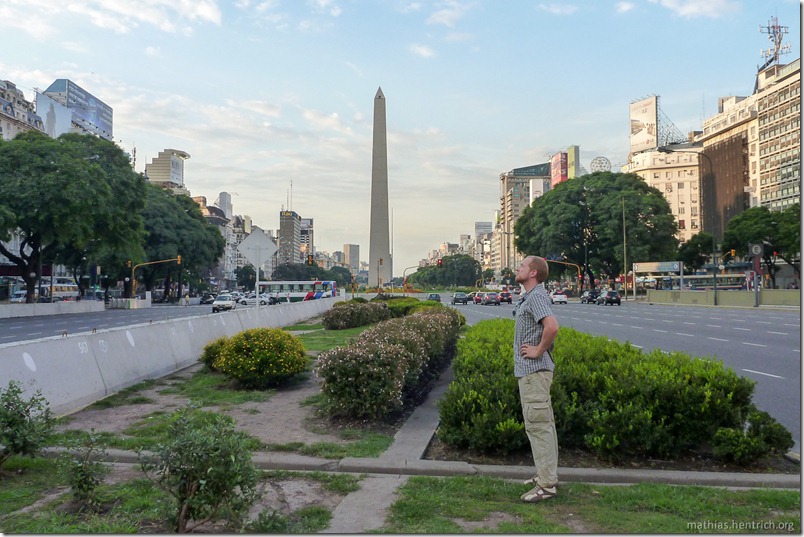 Erkundung von Argentiniens Hauptstadt.
Exploring Argentina's capital.
Buenos Aires, Argentina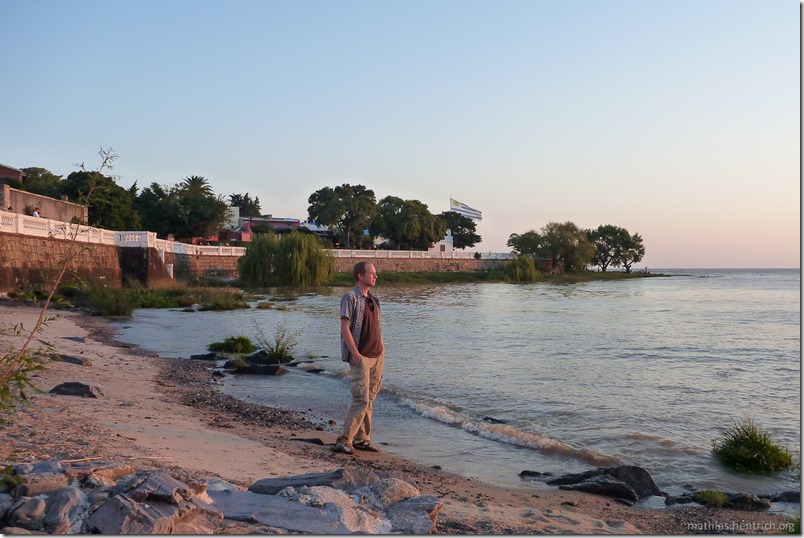 Entspannung in einem echt tollen Land.
Relaxation in a truly great country.
Colonia del Sacramento, Uruguay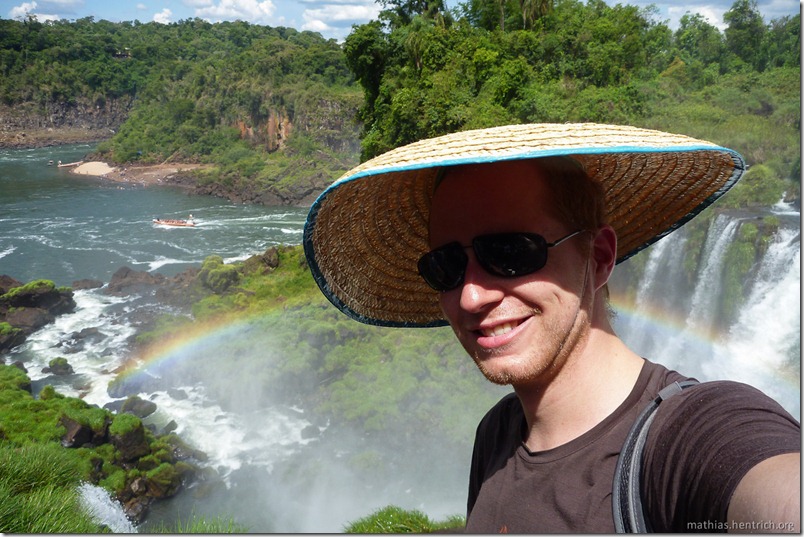 Auf Tuchfühlung: Pure Schönheit…
Moments of life: Pure beauty…
Iguazu-Falls, Argentina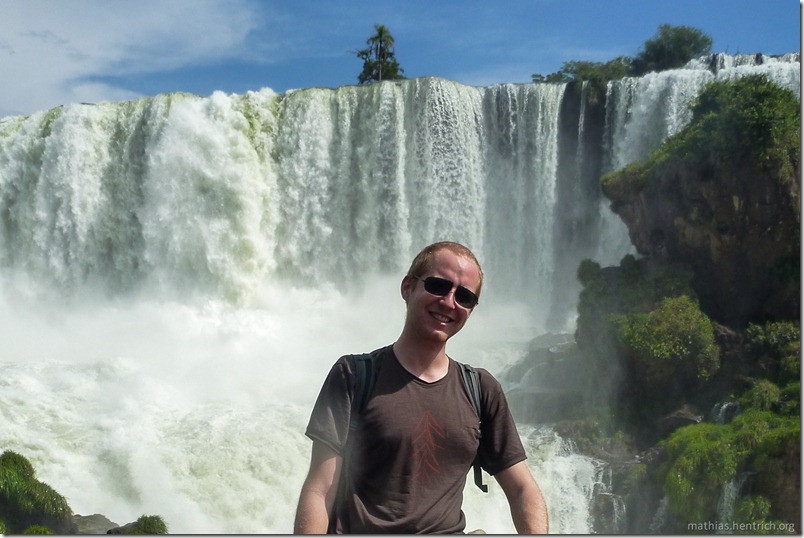 …und eine unfassbare Kraft bei diesem einzigartigen Naturschauspiel.
…and an incredible power at this unique natural spectacle.
Iguazu-Falls, Argentina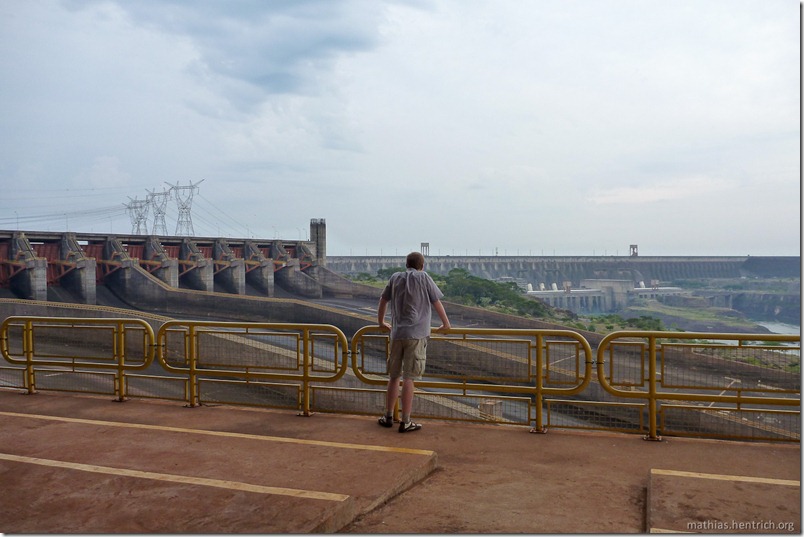 Erkundung des ehemals weltgrößten Wasserkraftwerks.
Exploration of what was once the world's largest hydroelectric power plant.
Itaipu Dam, Paraguay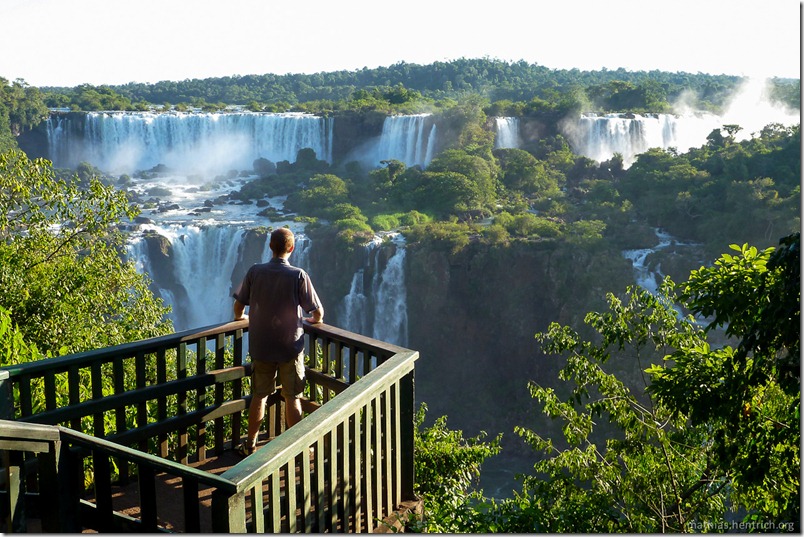 Ausblick von der anderen Seite auf…
View from the other side to…
Iguazu-Falls, Brazil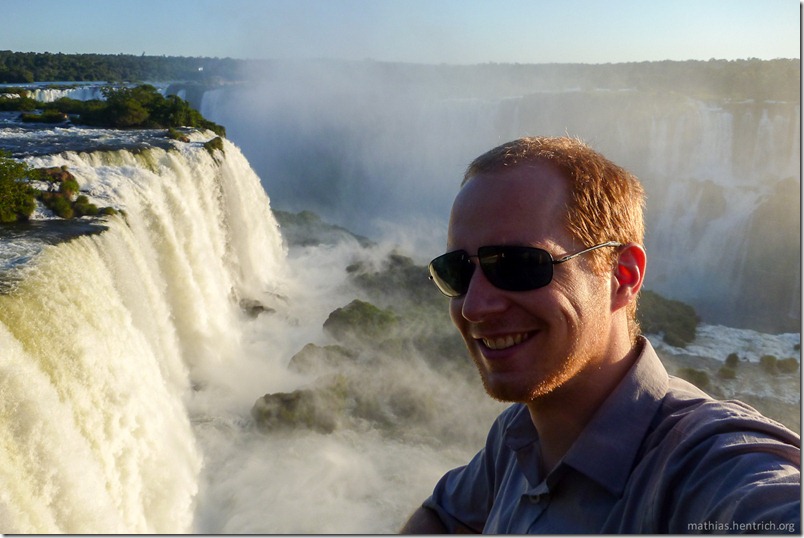 …die mit Abstand beeindruckendsten Wasserfälle der Erde.
…the by far most impressive waterfalls in the world.
Iguazu-Falls, Brazil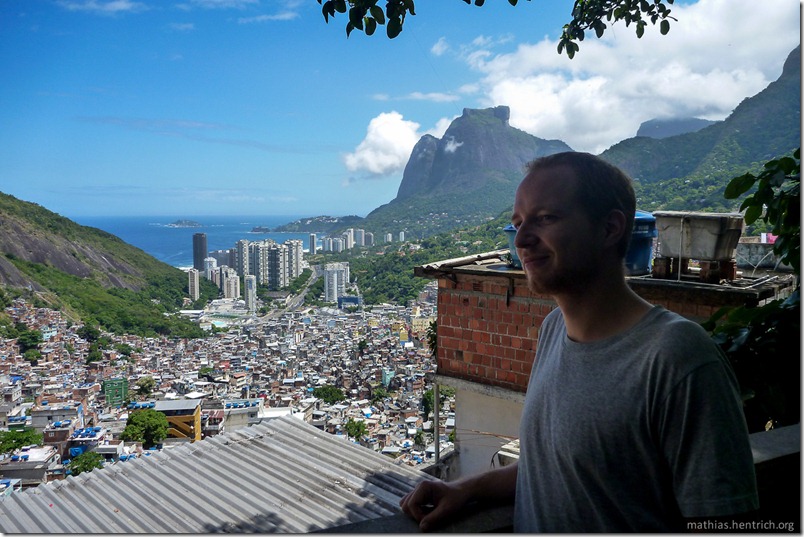 In einer von Südamerikas größten Favelas…
In one of the largest favelas of South America…
Rocinha Favela, Rio de Janeiro, Brazil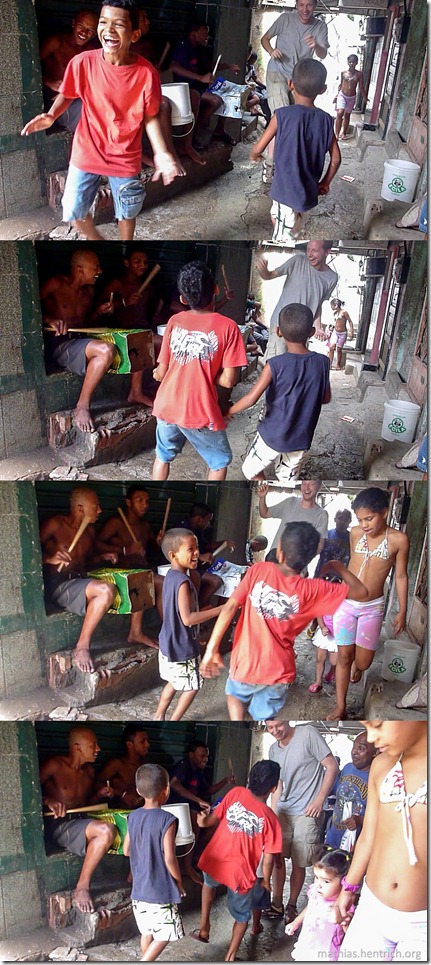 …und spontaner Tanz-Spaß mit den Kids.
…and spontaneous dance fun with the kids.
Rocinha Favela, Rio de Janeiro, Brazil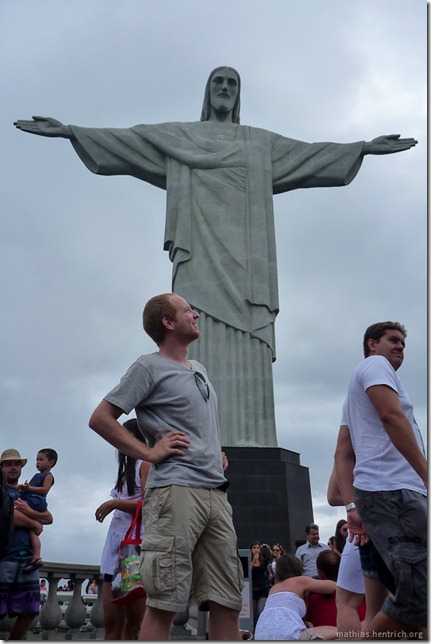 Das wohl bedeutendste Wahrzeichen von Rio…
The most significant landmark of Rio…
Christ the Redeemer, Corcovado, Rio de Janeiro, Brazil

…und die Aussicht vom Zuckerhut.
…and the view from the Sugarloaf.
Sugarloaf Mountain, Rio de Janeiro, Brazil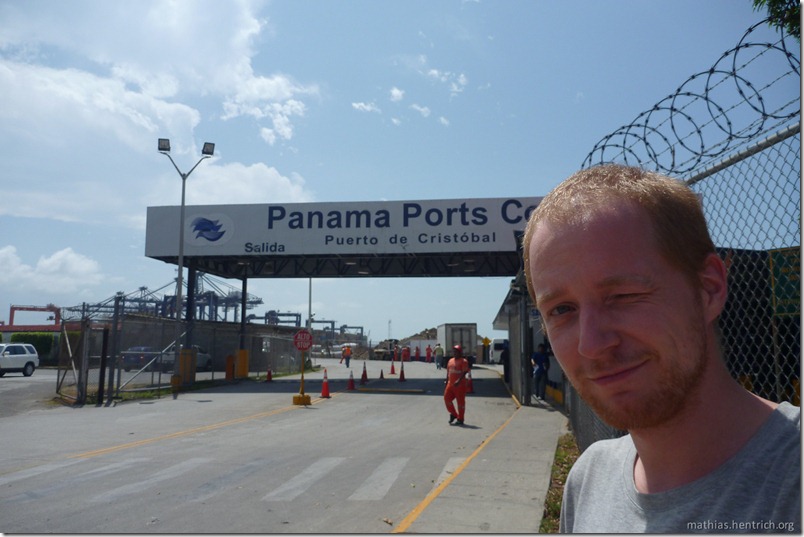 Zurück in Panama und Reisestart durch Zentralamerika.
Back in Panama and the start of my travel through Central America.
Colón, Panama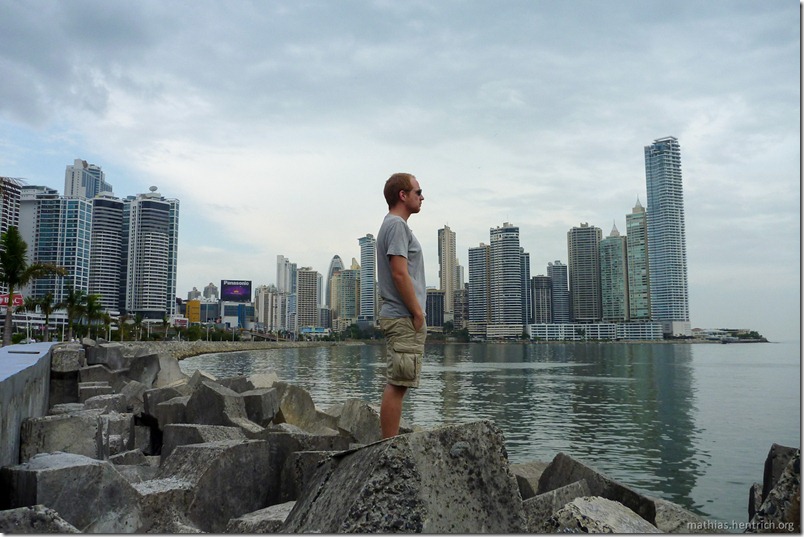 Mit meinem grauen T-Shirt passe hier ich ganz gut rein.
Gray in gray in gray in gray in gray.
Panama City, Panama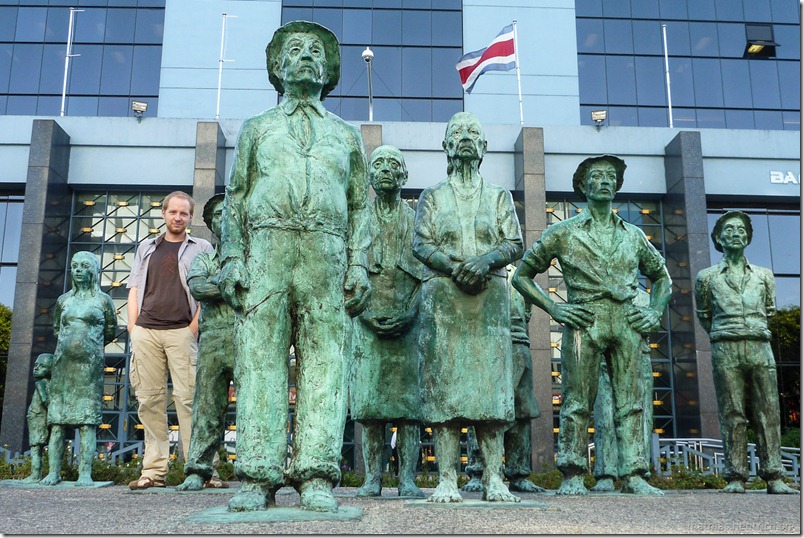 Immer nah an der Bevölkerung.
Always close to the locals.
San José, Costa Rica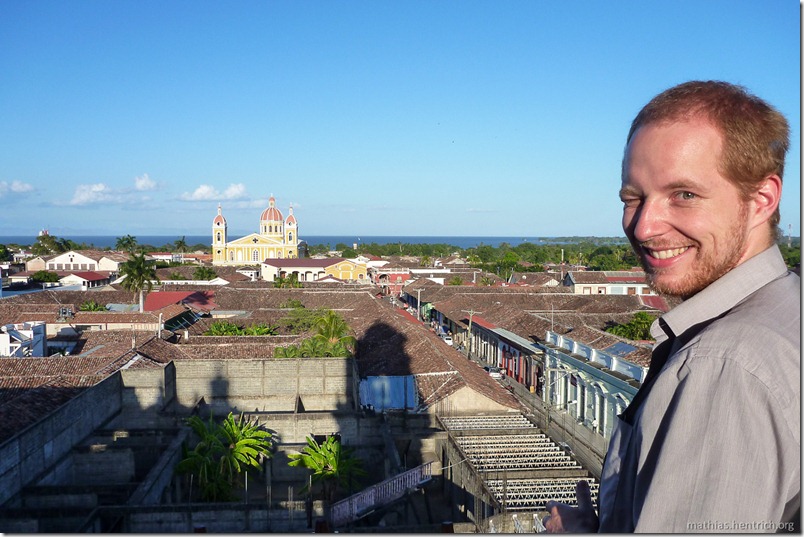 Aussicht über eine charmante Stadt kurz vor Sonnenuntergang.
View over a charming town just before sunset.
Granada, Nicaragua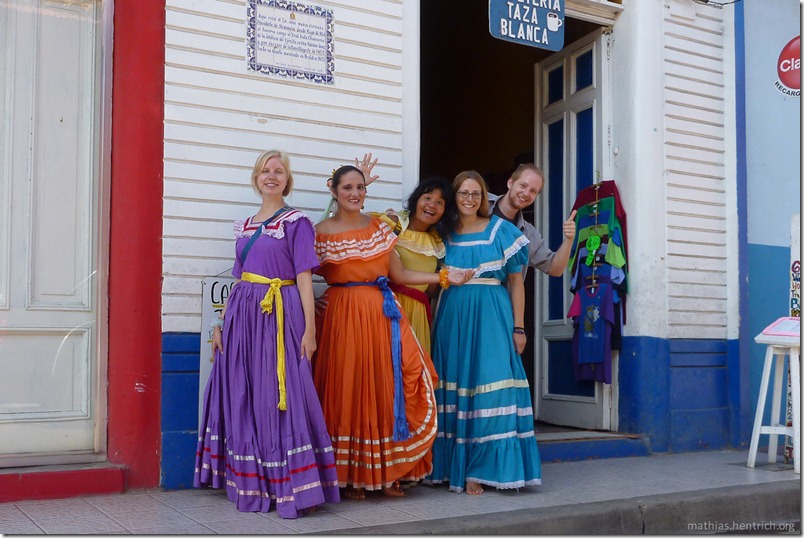 Ins Bild geschmuggelt. 😉
Smuggled into the picture. 😉
Granada, Nicaragua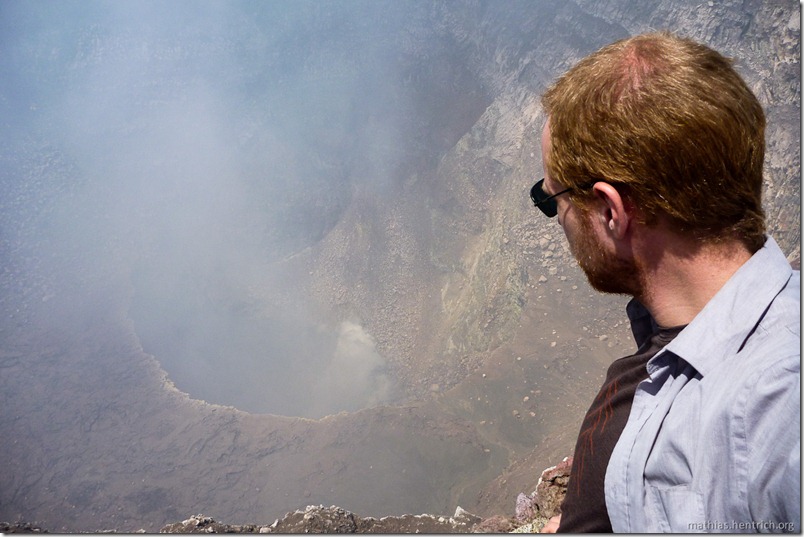 Einblick in den aktiven Höllenschlund.
Insight into the active hellmouth.
Masaya Volcano, Nicaragua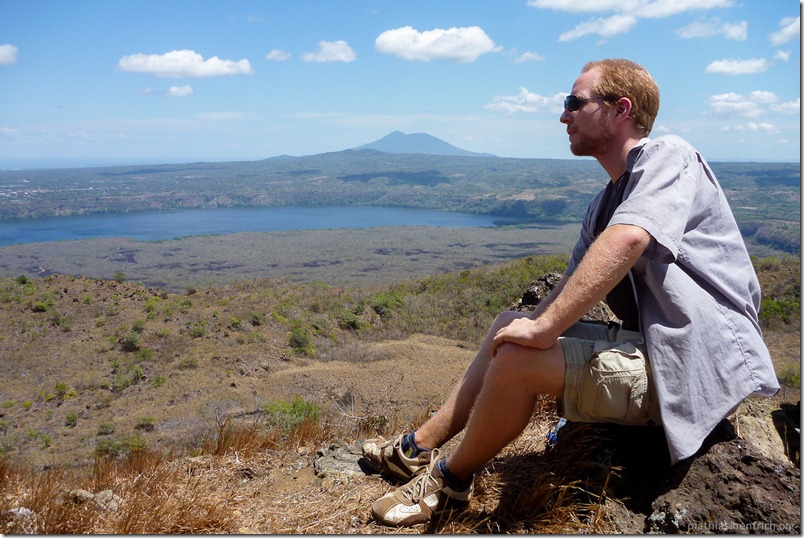 Vulkankrater-Umwanderung mit toller Aussicht auf weitere Vulkane.
Volcano crater hike with great views to other volcanoes around.
Masaya Volcano National Park, Nicaragua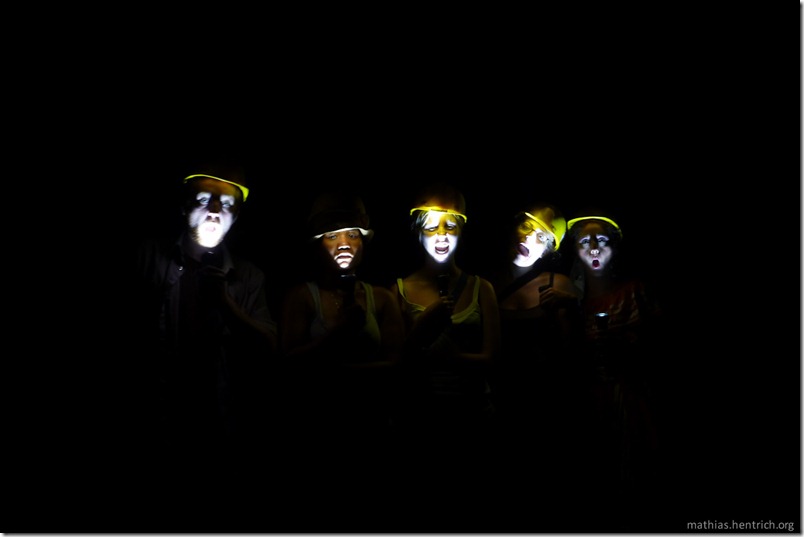 Gruselspaß in einer von Lavaströmen geformten Fledermaushöhle.
Scary fun in a by lava flows formed bat cave.
Masaya Volcano National Park, Nicaragua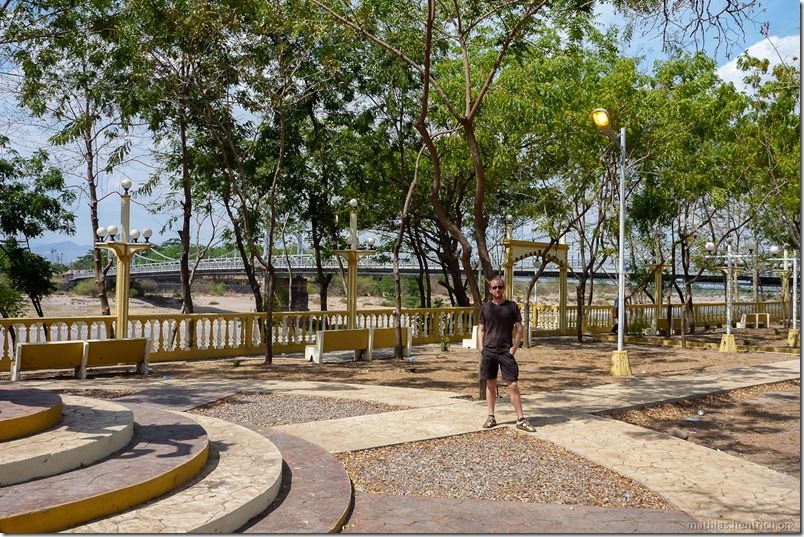 42°C und immer noch "cool" aussehen – das geht nur auf Distanz. 😉
42°C and still look "cool" – that's only possible at distance. 😉
Choluteca, Honduras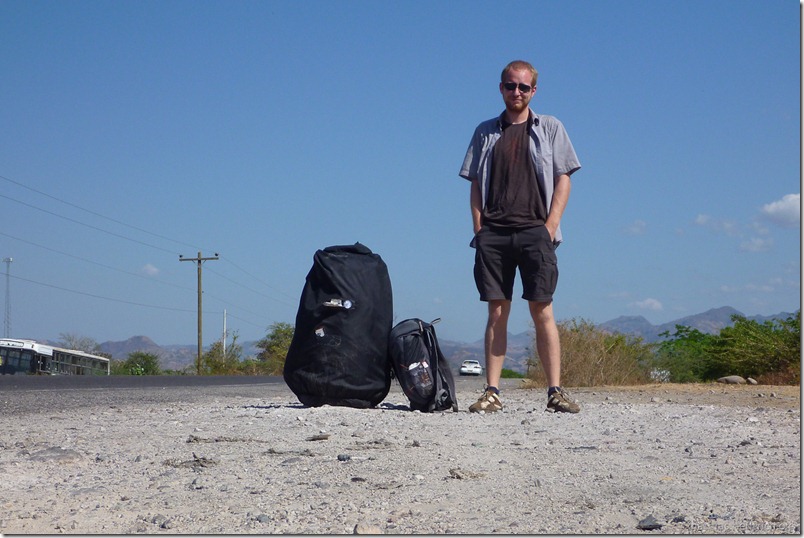 Bei Mittagshitze auf den Bus wartend – kein Schatten weit und breit.
Waiting for the bus in the heat of the day – no shadow around.
Southern Honduras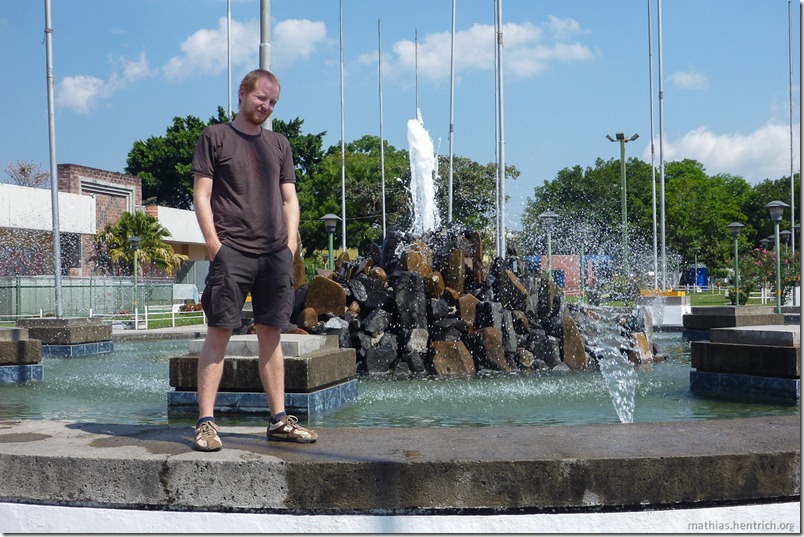 Oh du geliebtes kühles Nass.
Oh you dear cool water.
San Salvador, El Salvador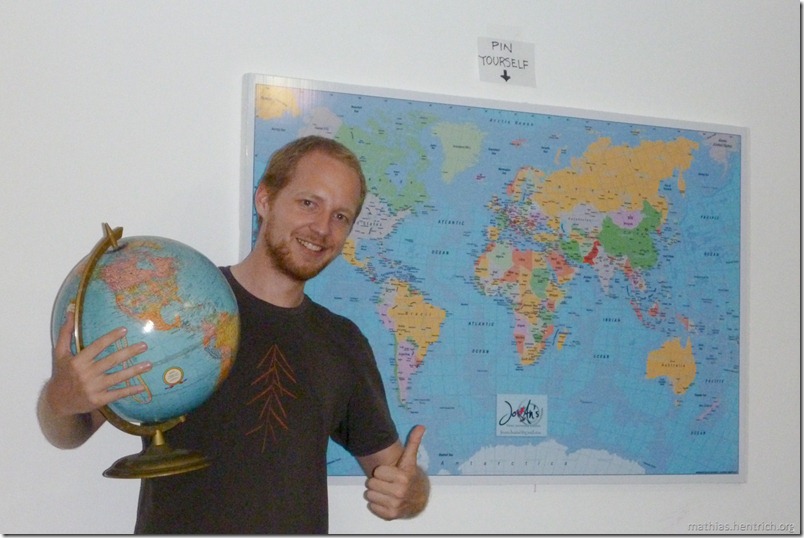 🙂
Hostel in San Salvador, El Salvador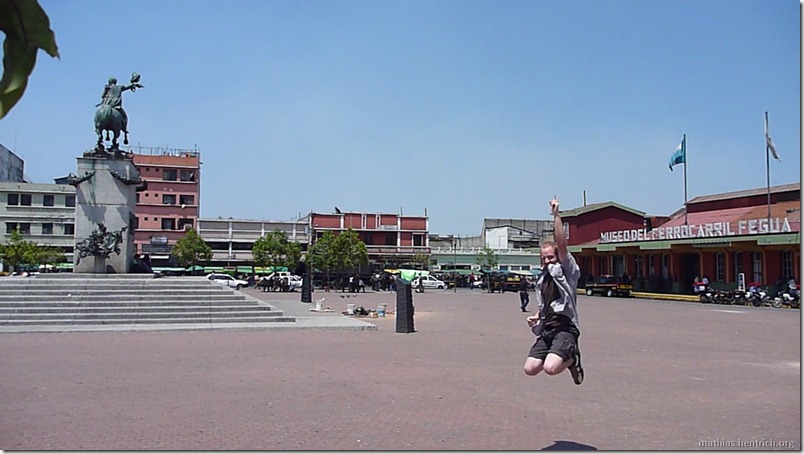 Erkundung in einer der gewalttätigsten Städte weltweit.
Exploration in one of the most violent cities in the world.
Guatemala City, Guatemala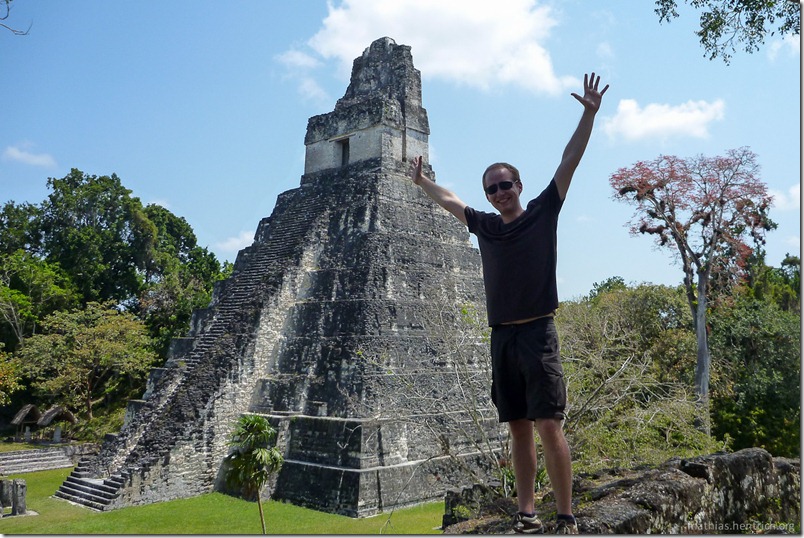 Durchaus beeindruckende Bauten der Mayas.
Quite impressive Maya buildings.
Tikal, Guatemala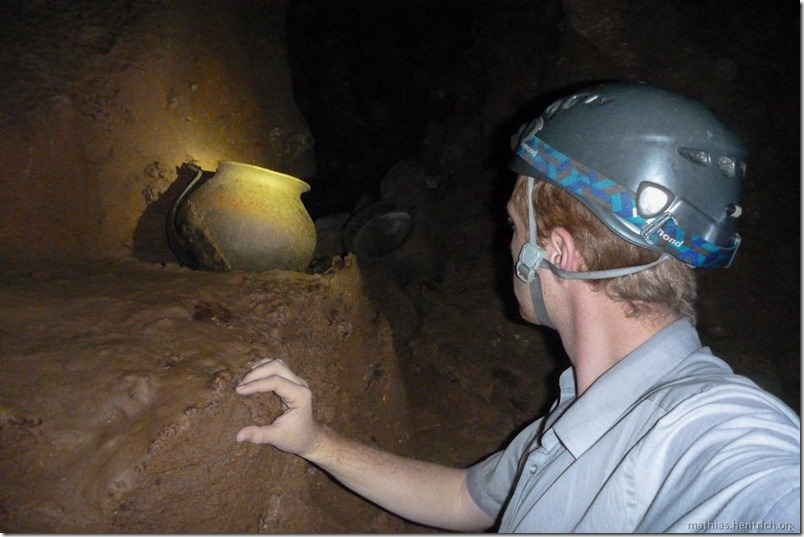 Auf Tuchfühlung mit über 1300 Jahre alten Artefakten und Maya-Skeletten…
In close contact with over 1300 years old mayan artifacts and skeletons…
Actun Tunichil Muknal (ATM) Cave, Belize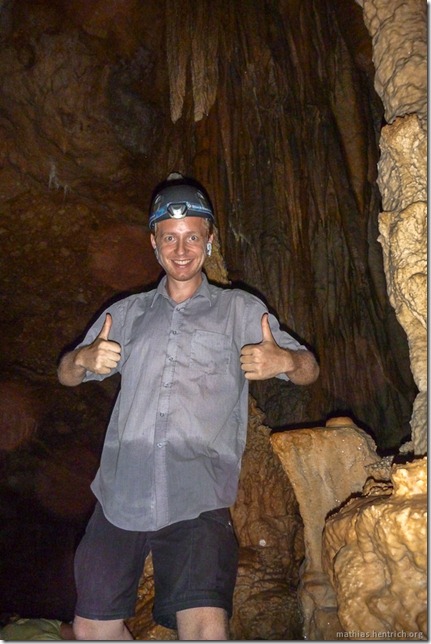 …in einem atemberaubend-schönen…
…in a breathtakingly beautiful…
Actun Tunichil Muknal (ATM) Cave, Belize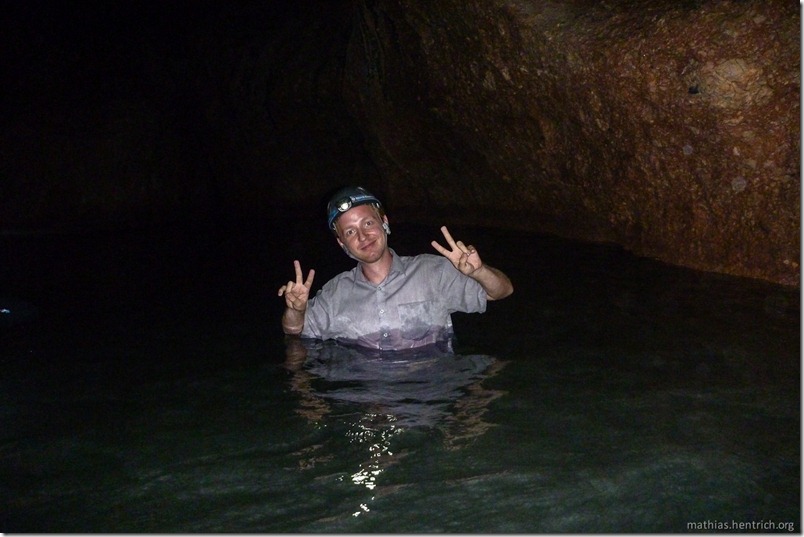 …und durchaus anspruchsvoll zu bezwingenden Höhlensystem…
…and quite challenging cave system…
Actun Tunichil Muknal (ATM) Cave, Belize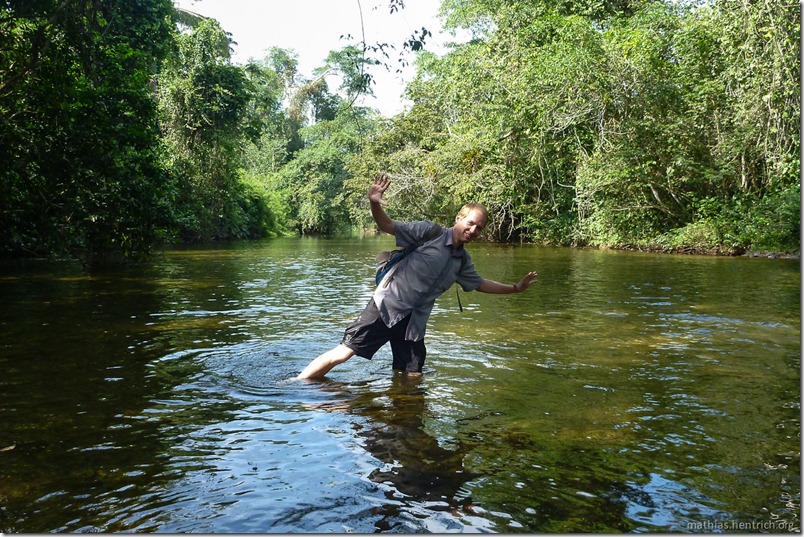 …abseits der Zivilisation geschützt im Dschungel.
…off from civilization protected in the jungle.
Tapir Mountain Nature Reserve, Belize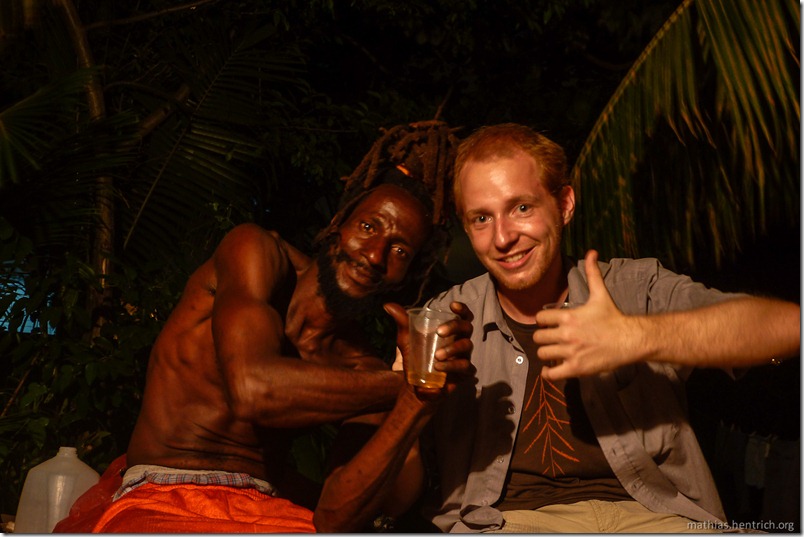 Nachts inmitten des tiefsten Ghettos nach Kennenlernen der lokalen Gangleader.
At night, amid the deepest ghetto after getting to know the local gang leaders.
Belize City, Belize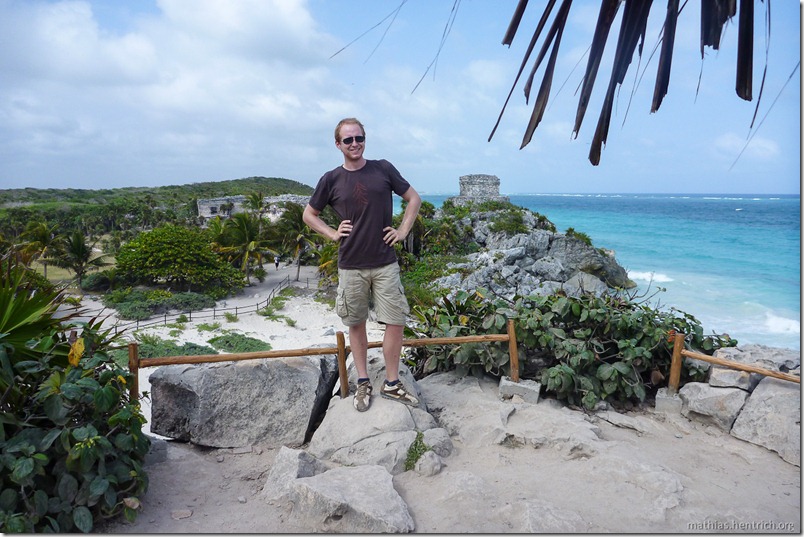 Touristisch stark erschlossen aber immer noch schön.
Pretty touristy but still nice to be here.
Tulum, Mexico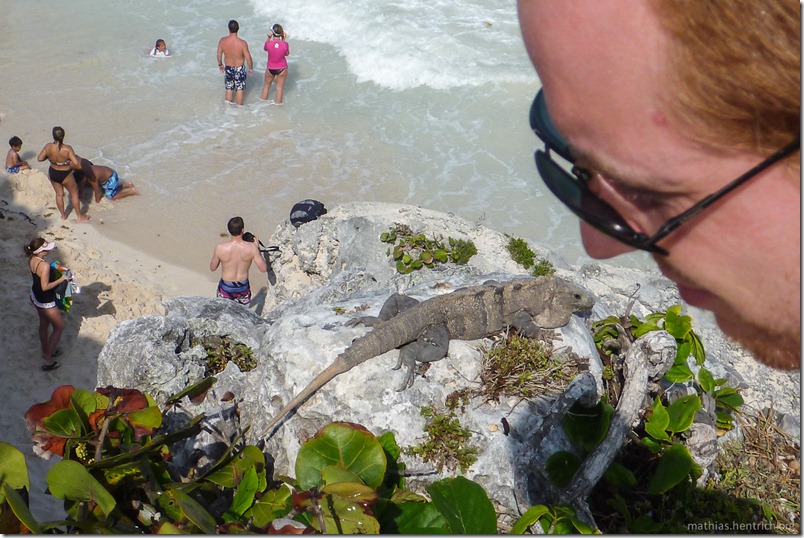 Alles ist eine Frage der Perspektive. 😉
Everything is a matter of perspective. 😉
Tulum, Mexico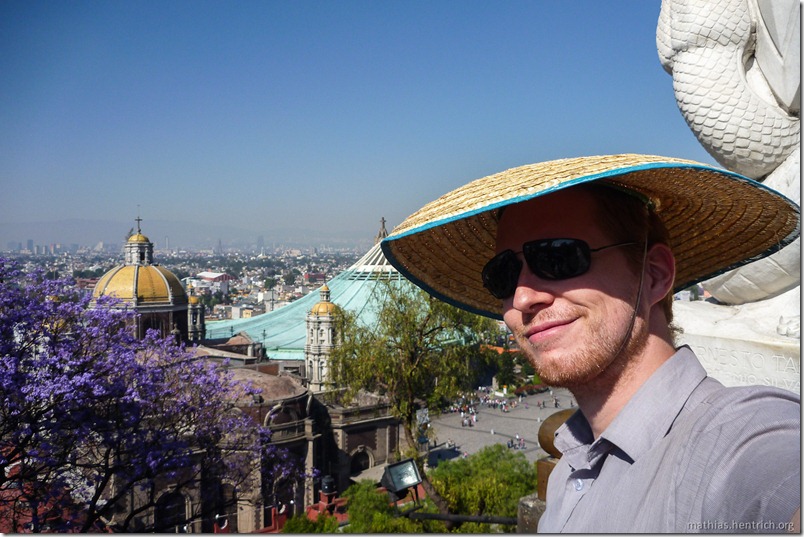 Auf dem Berg Tepeyac – dem meistbesuchten Wallfahrtsort der Welt.
On the Tepeyac mountain – the most visited pilgrimage site in the world.
Villa de Guadalupe, Mexico-City, Mexico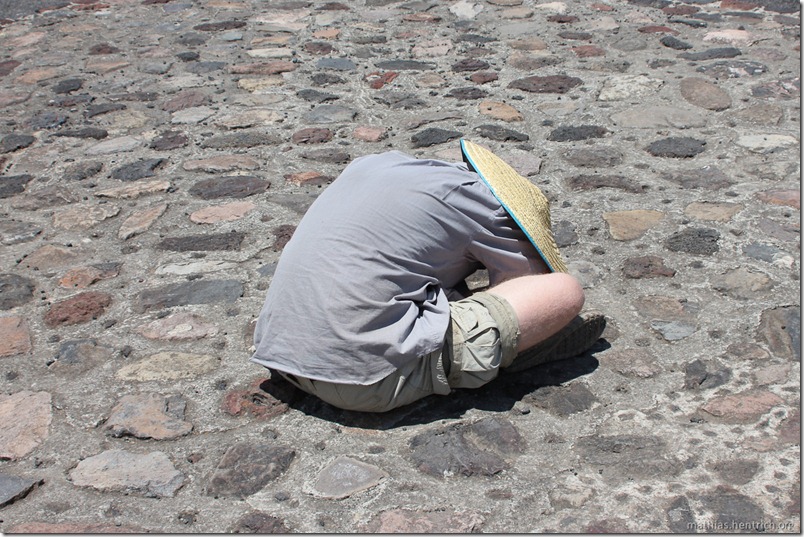 Preisfrage 1: Was mache ich da?
Price Question 1: What am I doing there?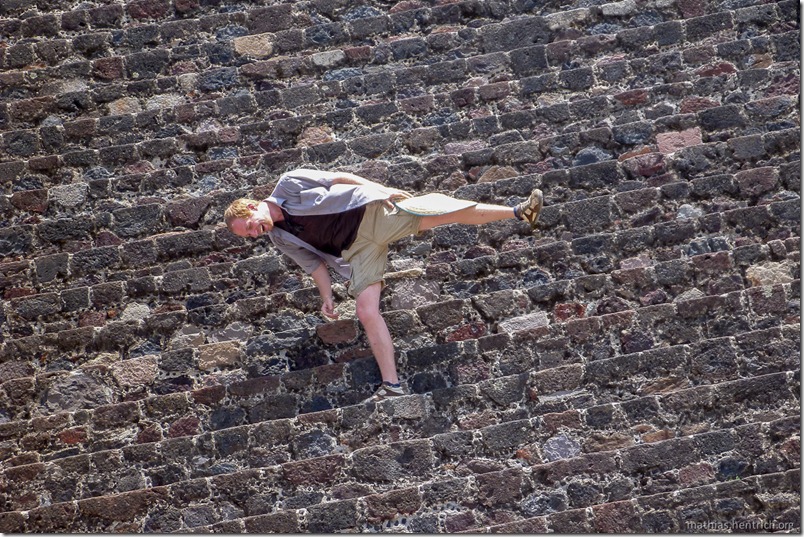 Preisfrage 2: Was mache ich hier?
Price Question 2: What am I doing here?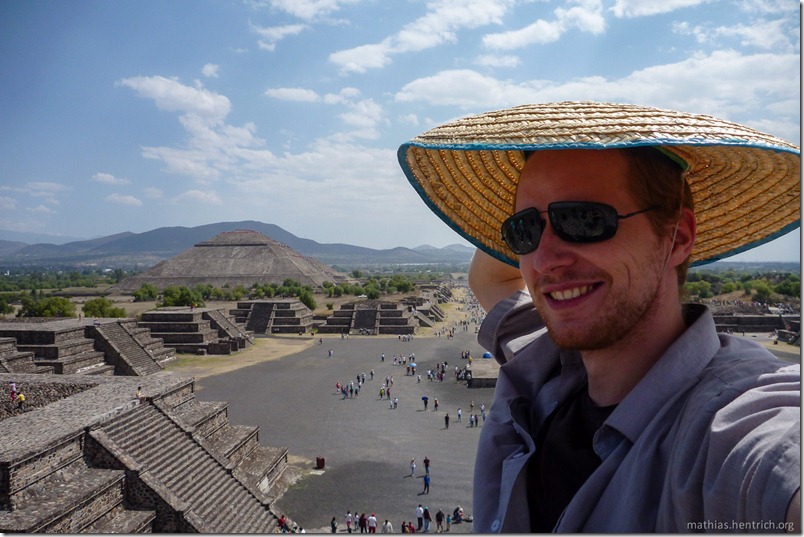 Aztekische Prachtbauten.
Magnificent aztec pyramids.
Teotihuacán, view from the Pyramid of the Moon to the Pyramid of the Sun, Mexico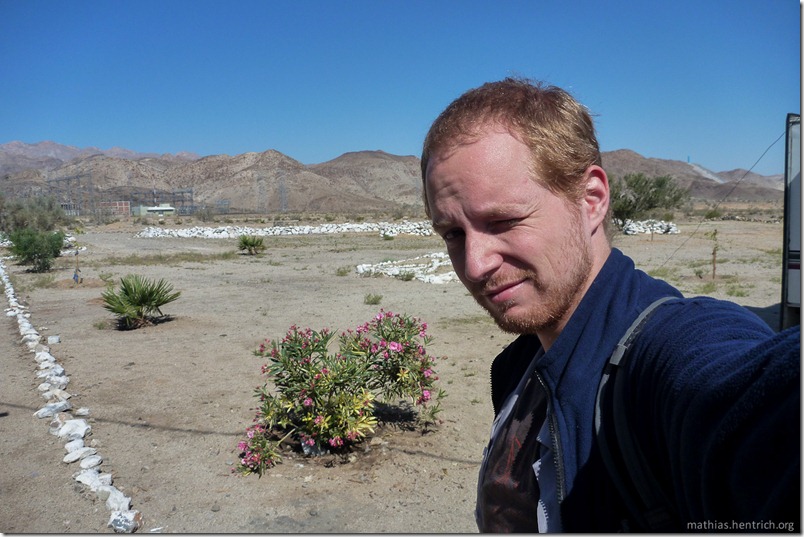 Mexiko im Drogenkrieg: Stopp an einem von dutzenden (!) Militär-Checkpoints.
Mexico drug war: Stop at one of dozens (!) of military checkpoints.
Hardcore 50 hours bus trip from Mexico-City to Tijuana, Mexico
---
Einige der Erlebnisse in den letzten Monaten waren nur mit Unterstützung ganz besonderer Menschen möglich. Hierfür nochmal meinen ausdrücklich herzlichen Dank! Gerne berichte ich Euch bald persönlich von der Reise. 🙂
Wie geht es jetzt weiter und wann komme ich wieder zurück? Es liegen noch einige spannende Monate vor mir: Die Durchquerung von Nordamerika, die Überquerung des Atlantiks und ein klein wenig Afrika. Vor ein paar Tagen habe ich ein Containerschiff über den großen Teich gebucht und das bedeutet: Erstmalig kann ich mit großer Sicherheit meine Ankunft in der geliebten Heimat bekanntgeben. Es wird wohl der September 2012 werden – nach zwei Jahren ohne Unterbrechung und durch über 50 Länder unterwegs in einem wahrlich vielfältigen Abenteuer – ich freue mich schon auf die Rückkehr! 🙂
Es gibt Sachen die kann man nicht kaufen und so auch aufrichtige Anerkennung: Wer mich auf dieser letzten Meile unterstützen mag und für immer ein Teil dieser Reise werden möchte, mein Dank ist gewiss. [Für weitere Infos bitte hier klicken.]
In diesem Sinne – es bleibt spannend,
Euer Mathias
Some of the experiences in the past few months have been only possible by the support of unique people. Again my heartfelt thanks for your trust! I'm looking forward tell you in person about this trip soon. 🙂
What's next and when I'm back? There are still some exciting months ahead: The crossing of North America, crossing the Atlantic, and a little bit of Africa. A few days ago I booked a container ship across the big pond and that means for the first time I can announce my arrival in my beloved homeland with great certainty. It'll most probably be the September 2012 – after two uninterrupted years and through more than 50 countries in a truly diverse adventure – now, I'm looking forward to return! 🙂
There are priceless things in the world, that includes sincere appreciation: If you like to support me on that last mile and want to be forever a part of this journey, my thanks is certain. [For more information please click here.]
It remains exciting,
yours Mathias